A customer loyalty program is a restaurant's secret weapon. With the right program and processes in place, food and beverage businesses can experience many benefits including increased revisits, boosted spend per head, and higher customer lifetime value.
The big question is – how can you make sure your loyalty program is successful? And, if you've never deployed a customer loyalty program into your venue, how do you get started?
Implementing a loyalty program into your operation doesn't have to be difficult, time-consuming, or expensive. For it to be successful, however, it does require some planning.
We've gathered some tips to help you get started on your journey to loyalty scheme success.
Explore loyalty program options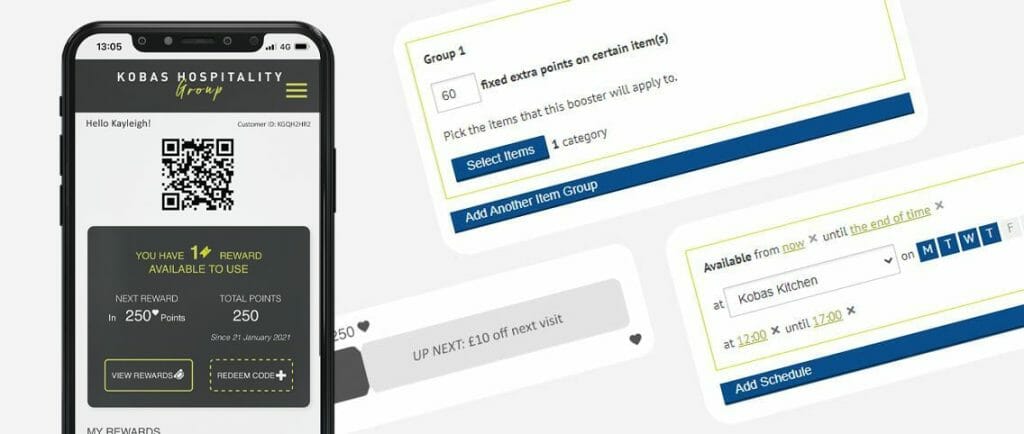 Remember loyalty stamp/punch cards? Well, they still exist but they no longer appeal to the modern customer. Printed cards are easy to forget and lose, but there is something most customers will have on hand – their smartphone.
Digital loyalty programs are the go-to method, providing customers with a mobile-first approach in the form of a native app or a web app. Behind the scenes, operators have full control over their loyalty program including the management of customer profiles, reward scheduling and more insight into customer activity than ever.
As for the options available, there are many to choose from depending on your requirements.
Point programs
Point programs are a popular loyalty option used across many restaurants, cafes, and other hospitality venues. Customers accumulate points based on their spending and will receive a reward once they reach a certain number of points. In 2021, over 10 million points were awarded to customers through the Kobas customer loyalty app.
Point-based loyalty programs also offer many other useful features to keep members engaged, such as point booster promotions where extra points will be up for grabs. In return, helping to drive trade during quiet periods, and boost revenue.
Stamp cards
As expected, paperless stamp cards work on the same premise as the printed versions. Customers are awarded a stamp per visit and receive a reward when their digital stamp card is full. A tried and tested loyalty program that works well for many hospitality businesses including coffee shops and cafes.
Tiered programs
Tiered loyalty programs allow members to enjoy different benefits based on the tier or rank they sit in. To move through the different tiers, the user will need to follow a set of rules and reach key milestones. The higher the tier, the more valuable the benefits.
For example:
£1 spent = 25 points. Points per spend is just one example; you may want to extend the rules with other incentives based on your goals (i.e – follow on social media to gain 100 points).
Bronze – 0-500 points and receive X rewards
Silver – 501-5000 points and receive XY rewards
Gold – 5001+ points and receive XYZ rewards
Identify your goals
With many different loyalty options and providers on the market, it can be challenging to recognise which one is right for your specific business. Begin the process by identifying and prioritising your goals as this will provide you with insight into the different features required.
Do you want to turn one-time visits into regulars? A simple loyalty program with easily attainable rewards in the form of a digital stamp card may work best.
Is increasing revenue during quiet periods important to your business? The ability to schedule adhoc offers with a point booster feature will be helpful.
Would you like to be introduced to new customers? Keep an eye out for a referral scheme feature.
Want to host loyalty, gift cards and more in one complete app? A complete customer-facing web app could be the best option for you.
Know who your customers are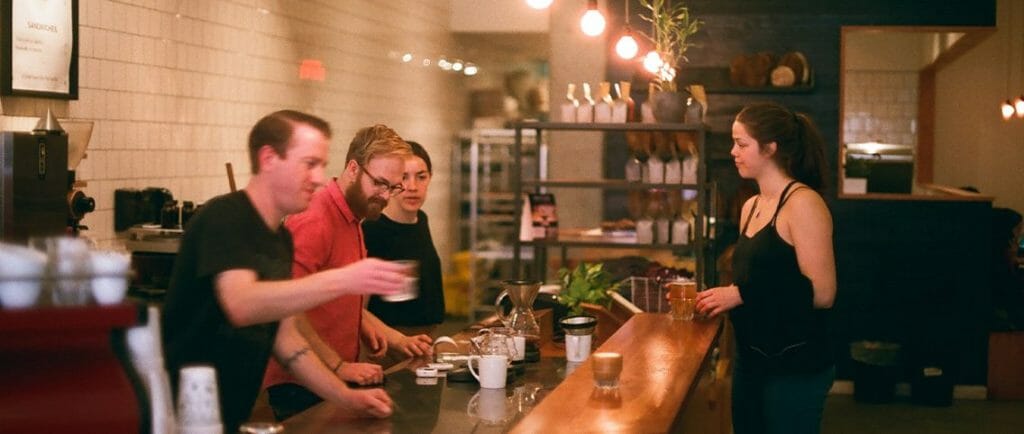 Knowing what you and your business want to accomplish from a loyalty program is crucial, but only part of the picture. For it to be a hit with your customers, it's important that their requirements are considered too.
Different types of guests will appreciate different types of loyalty programs and rewards. For example, a Gen Z customer base at a busy casual dining restaurant may value getting their hands on extra points and prizes through gamification. On the other hand, a village café attracting a Gen X customer base may value the simplicity of a digital stamp card program.
Find out who your customers are by looking into their demographic characteristics and even building personas. Information can be sourced from your Customer Relationship Management (CRM) platform, reservation system, and/or Google Analytics.
Discover what customers want when using a loyalty app by conducting research through surveys, social media polls (and social media listening in general), and staying up to date on the latest hospitality news.
Market your new loyalty program
A common mistake that B2C hospitality businesses make is stunting the success of their loyalty program by not marketing it. Customers need to know about your new loyalty app, its benefits, and get behind it.
Before hitting that launch button, plan a launch campaign to develop awareness and interest. This should let your customers know what to expect from your loyalty program with clear and transparent messaging, alongside a sign-up offer that is available for a limited time only. Offers become more attractive to customers when they have an end date, due to the fear of missing out on a good opportunity. This psychological marketing trick, also known as loss aversion, works well in this scenario as people tend to prefer avoiding a loss to acquiring the equivalent gain.
Make information on your loyalty program easily accessible by adding details on your website. A promotional banner or section leading to a dedicated landing page often does the trick.
Don't undervalue the benefit of offline promotion as it can significantly increase visibility – not everyone will look at your social media. Consider places to add promotion within your venue such as table tents, menus or secondary display screens on the back of your tills. Another effective and affordable way to increase offline promotion is to create custom business cards. These can highlight your loyalty program, not only making it visible but also easily shareable.
Don't forget to add promotions at different touchpoints. Reservation confirmation and post-visit emails are a great place to add a promotional banner for non-loyalty members.
Personalise rewards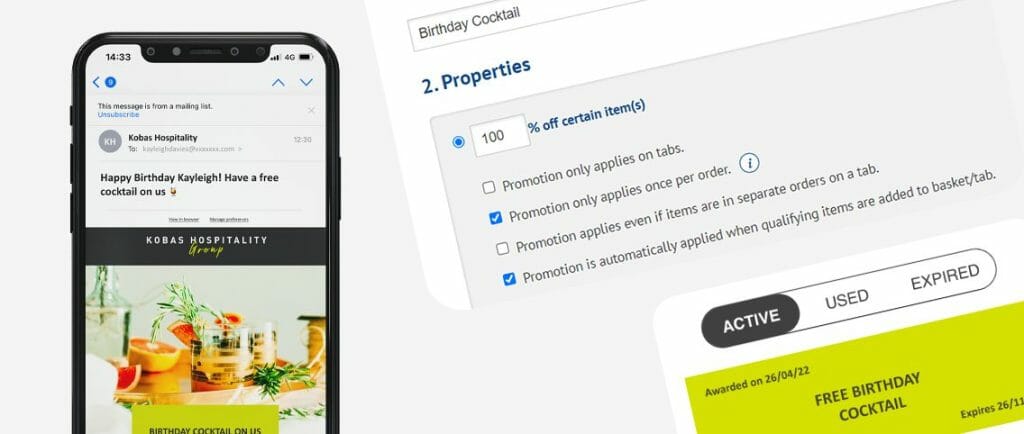 Your customers are more likely to engage when personalisation is added to the mix and better yet, it's not difficult to do this when using a connected hospitality system.
An established loyalty program will provide you with insight into loyalty activity and provide you with the option to set up automated emails.
Beyond this, it's important to select a loyalty program that can connect with your other technology platforms (such as your EPoS system, reservation platform and email marketing platform) to get a complete view on how your customers interact with your business. Connecting your tech stack in this way means less back and forth management between standalone systems, better reporting capabilities and streamlined segmentation for tailored email marketing.
Other tips
Create advocates for your new loyalty program, starting with your front of house team. Once they're trained on how it works and its benefits, they can pass information onto customers and answer any questions confidently.
Keep it simple. Customers are well-versed in loyalty programs and don't want to jump through hoops to monitor points and redeem rewards.
Retain engagement from your loyalty members with other member-only perks throughout the year.
Don't forget about your most loyal customers. If they've been an active loyalty member for a year or two, give them a little something special to let them know they're appreciated.
Create fun campaigns on holidays to drive interest. For example, if you operate a casual dining pizza restaurant, you might want to think about a pizza food challenge on National Pizza Day. The prize? £40 added to your loyalty account. Grab a slice of that!
Use your loyalty program to gain feedback about visits. Complete a survey, receive more points.
Stand out and choose a catchy name for your loyalty scheme. Ones from our clients include Poké Perks by Island Poke and The Hop Society by 400 Rabbits.
Frequently asked questions
What is a customer loyalty program?
A customer loyalty program is a marketing technique used across many businesses to attract and/or retain customers. For hospitality businesses, customers are given incentives such as being encouraged to revisit and spend more in exchange for points and rewards.
How much is a restaurant loyalty app?
The cost of a loyalty app varies across different providers but will often involve a setup fee and ongoing monthly subscription fee. The pricing can change significantly based on several factors:
How it's hosted – native app or progressive web app
If any bespoke development is required
The available features – some providers may increase the monthly cost with feature add-ons
The loyalty member count – some providers may increase the monthly cost based on how many loyalty members use the app
The quantity of venues – some providers may offer certain rates for multi-site operations
The Kobas loyalty system is a progressive web app that uses a white-label design, providing hospitality businesses with an inexpensive and effective loyalty option. Our point-based program is not a standalone platform, but comes as part of your complete Kobas system. This means you'll be equipped with the tools needed to manage all areas of your business and won't encounter any additional add-on costs, even when new features are added. One complete system, one monthly cost.