EPoS for Clubs
Raise the bar with our fast-paced EPoS for clubs, ready to tackle busy service.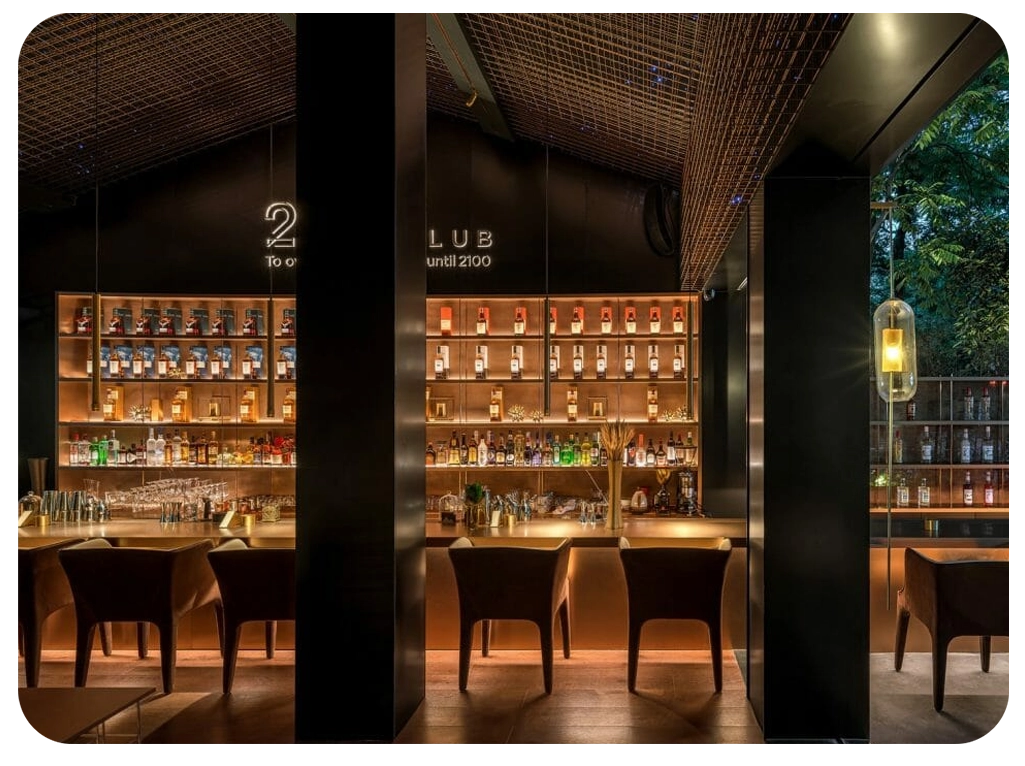 ---
Elevate customer experiences and drive sales with advanced EPoS for clubs. A complete system with hospitality-developed features at the forefront.
Our cutting-edge EPoS for clubs is the ultimate solution to help businesses like yours create unforgettable experiences and boost sales. Crafted with hospitality businesses at the forefront, the Kobas system features the dynamic tools needed to reduce queues, increase speed of service, and improve profitability.

Kobas extends beyond POS too and brings other key platforms together into one cohesive system. From stock management and rota scheduling, to loyalty and HR, we have you covered.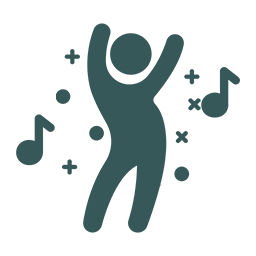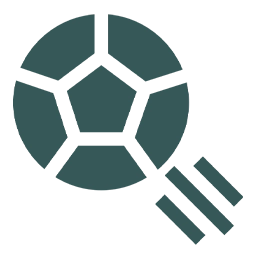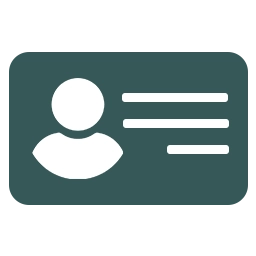 ---
Powerful EPoS
Our software is built with stability and speed in mind. With a growing range of efficient features available, the Kobas EPoS system for clubs lets you serve customers quickly, allowing for faster order taking and greater customer experiences.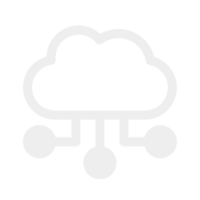 Time-saving features
Reduce manual data entry journeys with time-saving functions such as product modifiers, bar tabs, split bill, age ID checks and dynamic pricing for popular promotions.

Integrated payment options
Serve more customers in less time by integrating the Kobas EPoS software with leading payment providers.
Make changes from the cloud
Manage all system changes in Kobas Cloud including the layout of your EPoS menus, pre-scheduled menu updates, all system settings such as user permissions, and more.
---
Operational Insights
Drive data-led decisions and push your business forward with insightful operational insights. Explore valuable information such as cash-related discrepancies, wastage levels and best-selling products.
---
Stock Control
Counting stock with a printed spreadsheet can often lead to mysterious discrepancies and very late nights (or should we say, early mornings!). With our digital stocktake functionality, keeping track of your stock doesn't have to be a daunting task.
Stock takes are completed via a tablet, enabling bar staff to enter the stock quantities in any combination of whole multi-packs, individual item counts and ml/g measurements for part units. The stocktake information is then submitted directly into Kobas Cloud, which records the details and automatically calculates the remaining stock.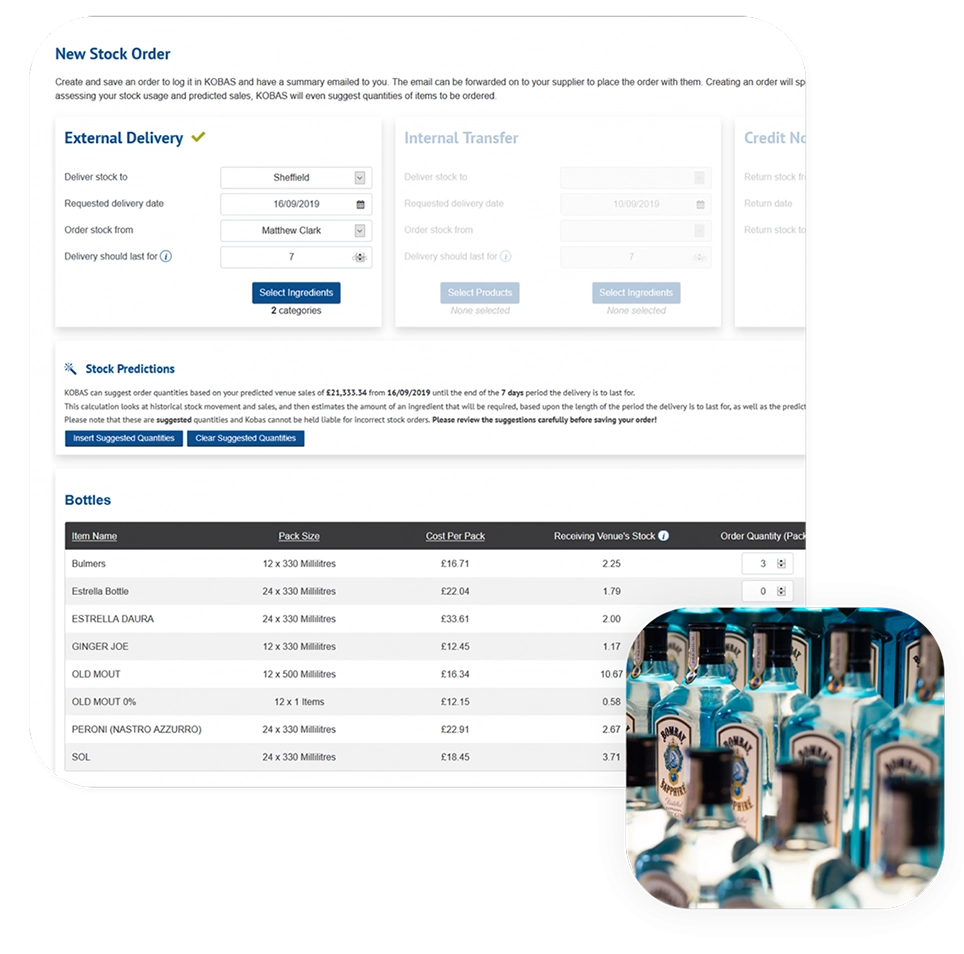 • Place and manage stock orders in minutes, removing the need for multiple calls and emails to suppliers.

• Utilise our 4-factor authentication feature when processing site transfers.
• Use our ordering AI to ensure management orders the right amount of stock, every time.

• Incoming deliveries can be checked against the order in real-time. A photo of the delivery note can be attached to the record too!
---
Compliance Tasks
It's crucial for management at club venues to stay on top of tasks in a timely and compliant manner. Your Kobas system comes with a set of customisable opening, in-shift and closing tasks, ensuring that your workforce has everything they need to complete key functions in the most effective way.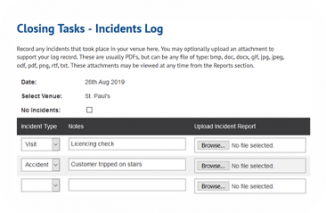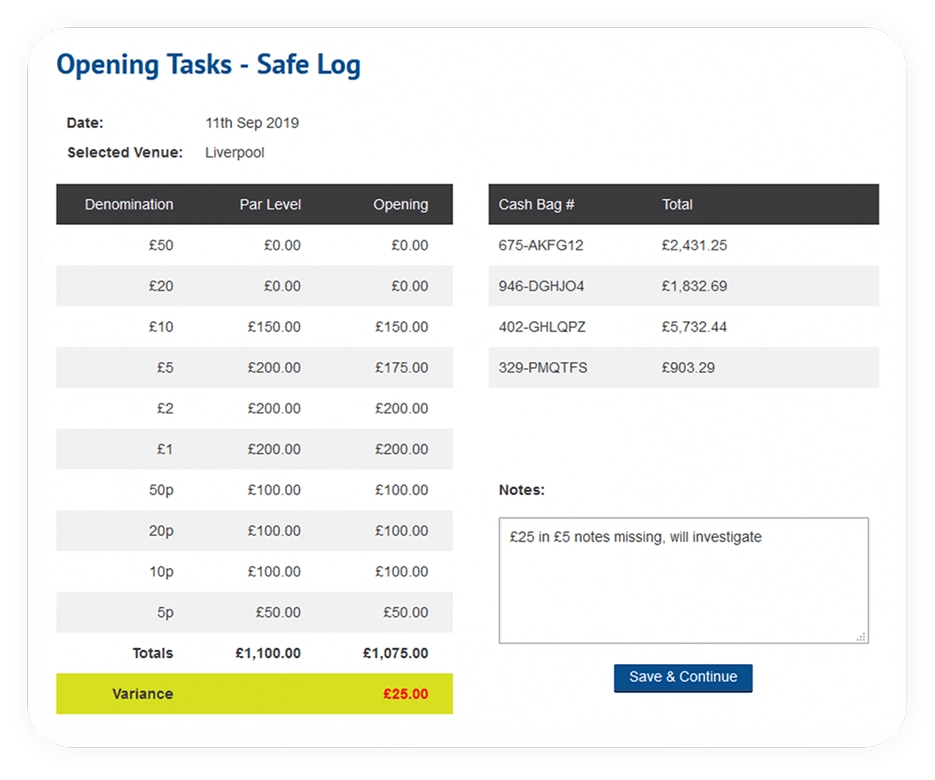 ---
Rotas & Payroll
When using the Kobas rotas & payroll platform, time-stretched managers can create staff rotas easily and efficiently. Create smart rota templates, link sales targets and staff budgets, add dedicated rota roles and much more.
Reduce scheduling errors
Trying to assign a shift to a member of staff who has approved leave authorised? Kobas will notify you in advance to eliminate scheduling errors.

Goodbye printed rotas
Remove printed rotas from staff room walls. Instead, your team can view live rotas from their smartphones, including any real-time changes.
Time and attendance tracking
Monitor time and attendance through your Kobas EPoS, authorise staff hours for the day in Kobas Cloud, and utilise our payroll service to consolidate your system entirely.
---
---
Want to discover what Kobas can do for your business?
Fill in your details and speak to a member of our team today.
Get in touch