The hospitality industry in the United Kingdom has always been a significant contributor to the country's economy. It encompasses various sectors, including accommodation, food preparation, pub management, and tourism. With the rapid advancement in technology and changing consumer demands, the industry is witnessing a steady and significant paradigm shift.
In this article, we've joined experts from job aggregator Jooble to discuss the changing landscape of jobs in the hospitality industry, with an emphasis on shifting future trends.
Automation and Robotics
Automation and robotics have been successfully employed by the Japanese in hotels and restaurants for several years. This growing trend is increasingly being adopted as a valid and efficient business model elsewhere in the world as more companies begin to see that automation can be useful in streamlining repetitive tasks and significantly reducing costs by minimising the need for labour. 
With the increase in contactless services, artificial intelligence automation is expected to take over more tasks such as checking in guests, cleaning, transporting guests' luggage, delivering room service, serving food and beverages, and more. This allows staff to focus on higher-value tasks such as customer service.
In certain instances, the novel use of robotics also serves to enhance guest experiences by providing unique and memorable interactions. Guests are often intrigued by the use of automated robots in hotels or restaurants and it's frequently the highlight of their visit. In the UK, it might seem like a slow growing trend, but more restaurants and experience-led venues are getting curious. For example, The Tea Terrace in Cobham uses Theresa the Robot, and M Restaurants who sometimes feature their Champagne service with the help of a robot.
Job opportunities

Increased automation could lead to job losses for low-skilled workers in certain sectors of the hospitality industry. However, the adoption of automation and robotics will undoubtedly create new job roles as businesses will need to hire specialists with the necessary expertise to program, maintain and repair automated equipment. This will create new job roles such as robotics technicians, automation programmers, technology integration specialists, customer experience designers and process optimisation managers.
Digitalization
Due to significant advances in modern technology, digitalization has become an essential part of the hospitality industry. The use of mobile applications for ordering food, booking hotels, and making payments has become commonplace. With the advancement of technology, artificial intelligence (AI) and machine learning (ML) is expected to become more prevalent in many areas of the hospitality industry. Chatbots are already being successfully used by many companies to provide customer service.
Job opportunities

The increased adoption of digitalization in the hospitality industry will result in a greater demand for job roles in areas such as website and app development, digital marketing, social media management, data analytics, and IT support.
Sharing economy
The sharing economy has already had a significant impact on the hospitality industry, with platforms such as Airbnb and HomeAway disrupting the traditional hotel industry by providing travellers with alternative (and cheaper) accommodation options. The future of the sharing economy is likely to continue to evolve and grow, as these platforms become more sophisticated and expand their offering, and new platforms emerge.
Another trend we're seeing more of is the blurring of the lines between traditional hospitality providers and sharing economy platforms. For example, many hotels are now partnering with home-sharing platforms to offer alternative accommodations to their guests, and some sharing economy platforms are offering more traditional hotel-like services such as housekeeping and concierge services.
Job opportunities

The sharing economy is here to stay and will create new job roles such as innovation managers, product differentiation specialists, personalisation specialists, partnership managers, collaboration coordinators, and IT specialists.
Growth in food delivery
The fast-paced modern world of busy work schedules, time constraints and longer commutes have made it more difficult for consumers to cook meals at home, contributing to a shift away from home cooking and towards takeout and delivery options. Additionally, fast food businesses offer a great degree of choice and allow consumers to enjoy restaurant-quality food in the comfort of their own homes and on the move.
To meet this growing trend, restaurants have responded by offering a myriad of online ordering and delivery services. Consequently, the popularity of delivery and takeout services will continue to be increasingly popular in the future.
Job opportunities

There will be an increasing demand for workers in the fast-food industry and those who are able to manage online ordering and delivery platforms.
Health and wellness
The health and wellness trend is expected to continue to grow in the hospitality industry with hotels, restaurants, and other businesses adapting their offerings to meet the changing needs and preferences of more health-conscious consumers. This trend presents both challenges and opportunities for the industry in terms of creating unique and compelling wellness offerings while balancing the demands of traditional hospitality services. This may include a range of services and amenities such as yoga and fitness classes, healthy meal options, meditation and mindfulness sessions, and spa treatments.
Job opportunities

The growth and importance of health and wellness offers job roles in a wide range of industries, including fitness, nutrition, and culinary services.
Growth of virtual restaurants
Virtual kitchens are another growing trend in the hospitality industry. Also known as ghost kitchens or cloud kitchens, virtual kitchens have no physical storefronts or dining areas. They are designed to provide meals for delivery only through online platforms.
Virtual kitchens provide a new way for entrepreneurs and businesses to enter the market with lower overhead costs and less risk than opening a traditional restaurant as they don't require expensive real estate, front-of-house staff, or other overhead costs associated with running a traditional restaurant.
Virtual kitchens also have the potential to improve the efficiency and profitability of food delivery. By focusing exclusively on delivery orders, virtual kitchens are able to optimise their operations and reduce the time and cost associated with preparing and delivering meals. This results in faster delivery times, higher quality food, and lower costs for customers.
Job opportunities

Virtual restaurants offer the same kind of job opportunities as staff who work in traditional restaurants or fast food outlets. For example, cooks, chefs, cleaners, and delivery personnel, as well as virtual restaurant managers and specialists who are able to design and maintain online platforms.
Food tourism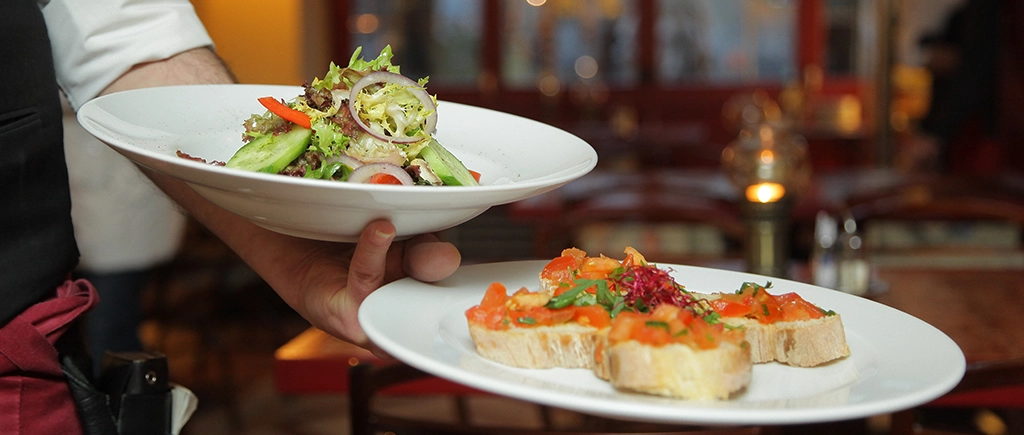 As consumers become more interested in authentic and unique culinary experiences, food tourism is expected to play a significant role in shifting hospitality trends in the future. Food tourism encompasses the exploration of local cuisine and traditional food by tourists while learning about the history and traditions behind local cuisine. This provides opportunities for small-scale food producers, farmers, and artisans to showcase their products and attract customers. Food producers may also offer tours or tastings that allow visitors to learn about their products and processes, leading to an increased demand for locally sourced ingredients and creating jobs within local communities.
As more travellers seek out culinary experiences, destinations that are known for their food culture will become more popular and attract more visitors.
Job opportunities

Growth in food tourism will create job opportunities in positions such as culinary tour guides, artisan brewers and bakers, food bloggers, and food event planners. These roles will require a deep understanding of the local artisan food scene and an ability to showcase it to tourists.
Final thoughts
The hospitality industry in the United Kingdom will continue to undergo significant transformation as growing trends in automation, digitalization, a shared economy, and artisan foods shape the industry's future. While these trends may lead to the displacement of some jobs, they will also give rise to the creation of many new job opportunities. To stay relevant in the industry, job seekers will need to upskill and even reskill to adapt to the changing hospitality landscape.
Want to see the Kobas system in action?
Kobas enables teams across the hospitality industry to manage all areas of the business, from one connected and complete system.