With a huge update due later in the week, I'm happy to announce that we've also released two smaller changes to our discount and venue managers that may have flown under your radar. Both of these features include changes to the presentation of receipts, in our unending commitment to not only provide ease and clarity for our users, but also for their customers as well.
Set Menus
Kobas features 6 main types of discount and through these it is possible to support a whole range of configurable promotions to suit your needs. That said, it was recently brought to our attention that it can take a fair amount of tinkering to get a fixed-cost set menu working smoothly.
As a result of this, we've built on our existing One item from each group for £x promotion to support both Meal Deal and Set Menu options.
Our Meal Deal is the existing discount, and this will discount items down to a set price, if the selected items have a combined price that is higher than the price of the meal deal. In this case, the discounted amount will appear at the bottom of the receipt, showing the customer how much they have saved.
Our brand new Set Menu option is for situations such as a pre-theatre menu, or when large groups order from a menu ahead of time; the changes we have made here will firstly ensure that the fixed price is always applied, even in instances where the sum of the items may be smaller than the set menu's price.
Secondly, we have updated our receipts to hide the price of individual items and show the total paid for the set menus, rather than the amount saved. This way your customers will receive a clear and concise bill that will make sharing the cost easier than ever before.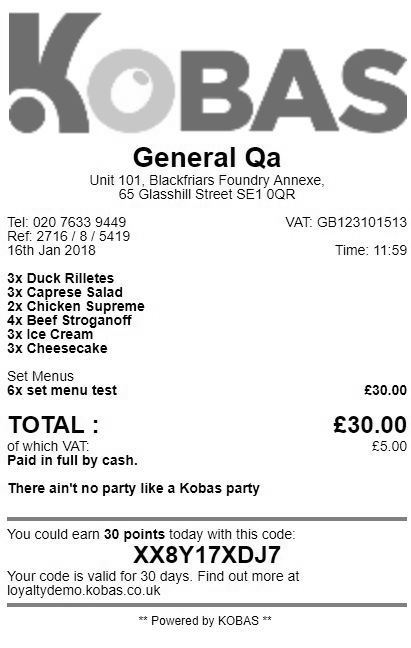 If you'd like to start taking advantage of this new feature, you can do so by accessing EPoS > Discount Manager and then selecting the "Set Menu" option.
Receipt Headers
In the days before Kobas supported logo images on receipt headers, having venue names on the receipt was essential, in order to comply with legislation on VAT receipts. However, with many of our clients now taking advantage of these headers, and many of those logos including the venue name already, receipts can end up saying the same thing twice. To counteract that, we've added the ability to remove a venue's name from the receipt.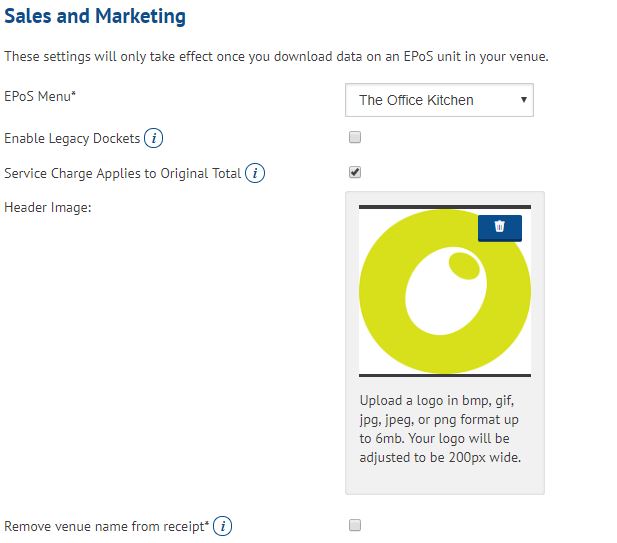 Whilst we were in there, we decided to add the ability for users to upload receipt images themselves. So, what once required a support request and input from our engineering team, can now be completed in seconds with neat drag and drop functionality.
To start using these new features, please access Administration > Venue Manager and select the Sales and Marketing tab.
---
That's everything for today, but keep an eye open and an ear to the ground, as the first phase of our Allergens project will be imminently arriving on Kobas Cloud.