Customers are more conscious than ever before about where their food comes from and its environmental impact, and it's leading to a higher sentiment towards businesses that have sustainable practices in place. The good news is, we're continuing to see an increase in hospitality businesses doing their part to become more sustainable.
For operators that don't know where to start, making sustainable changes doesn't have to be all or nothing and it doesn't have to be costly or impact your profits. In fact, becoming more eco-friendly at your restaurant can begin with some small and simple wins.
Cut down on food waste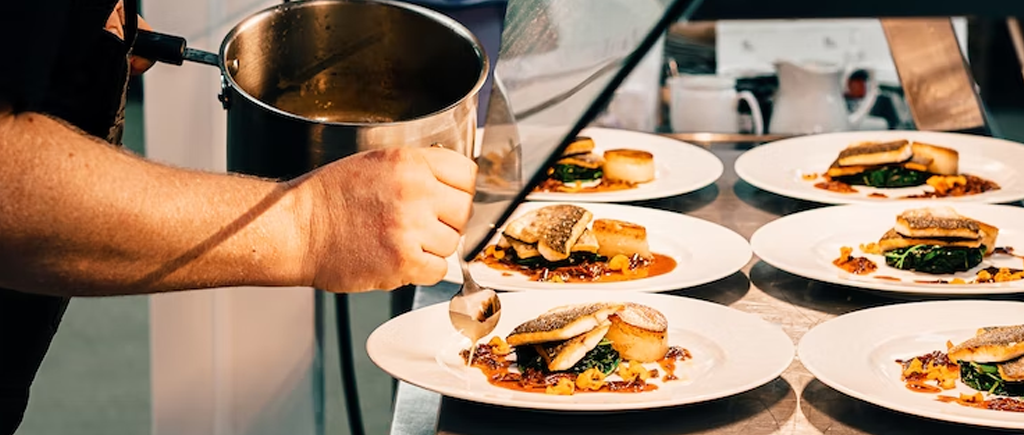 In the UK, around 200,000 tonnes of food waste is produced by restaurants, costing businesses around £682 million each year. Much of that food waste comes from food preparation (roughly 45%), along with customer leftovers, and spoilage.
The truth is, many restaurants still over-order on their stock, don't cross-utilise products, and dish up some very generous portions. Of course, restaurateurs want each and every customer to leave satisfied with their meal (as do we as guests!). But, there are definitely a few changes you can make to cut down on food waste.
Cross-utilise produce – Make your ingredients go further by using as much of a product as possible across other dishes. Better yet, model your menu around ingredients that can be used in different ways whether that's for garnishes, sauces, soups, or oils. If you can't use the leftovers in your everyday menu, create special offer dishes. Not only does this reduce waste and maximise profits, but it can spark some creativity in the kitchen too.
Track waste – Many systems such as your hospitality EPoS, kitchen display system and stock management platform, contain useful features to help teams track wastage. This comes in handy for dishes that may need to be remade, allowing you to assign a reason for the wastage. With wastage reports, you can understand how much waste is produced within a period of time, the common reasons, and the cost of that waste.
Ordering AI – By assessing your stock usage and predicted sales, modern hospitality stock systems can now suggest quantities of items to be ordered to reduce excess stock.
Sales performance reports – Use performance reports supplied by your hospitality system provider to identify sales trends and make informed decisions on how much to prep. For example, the best and worst performing dishes by week and time.
Preparation instructions – Keep portion sizes consistent and under control by adding preparation notes to your dishes using your stock system. These can be viewed by your team during service on Kitchen Display Screens.
Give customers control – We've all visited a venue and received a dish with a mandatory side order that we didn't really expect or want (shout out to the decorative side salad). By giving your customers more control, you can give them what they want and reduce leftovers. Use product modifiers on your EPoS system, mobile POS and restaurant mobile ordering app to help with this.
Composting – Reduce food waste that reaches landfill by composting, turning your waste into humus that can be used to fertilise crops. This has become a popular option for restaurants that grow their own produce.
Help others out – Struggling to find ways to reduce waste that works for your business? Give it away to a good home by using popular apps such as Too Good To Go.
Use local suppliers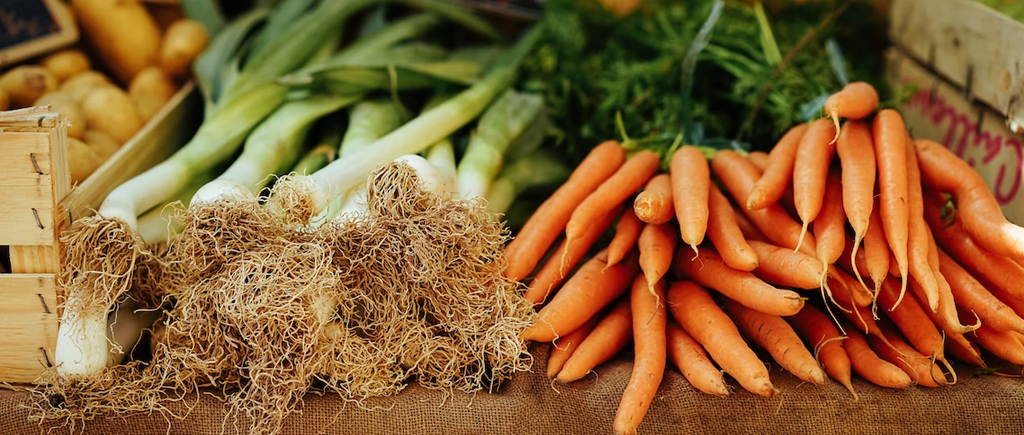 Unfortunately, food and transportation go hand in hand when it comes to unsustainability. Nearly 20% of food-related emissions come from transportation.
Shorten your supply chain and reduce emissions from long-haul journeys by using suppliers near you with locally-grown produce. If your business is on a mission for real change and you're able to grow some of your own fresh produce, that's a great option too. Broccoli, carrots, apples, kale, leeks, parsnips, onions, garlic – there's a lot you can work with. Of course, there's the education, staffing and time that comes into growing your own fruit and vegetables, but it can save your business thousands of pounds further down the line.
Reduce single-use non-consumables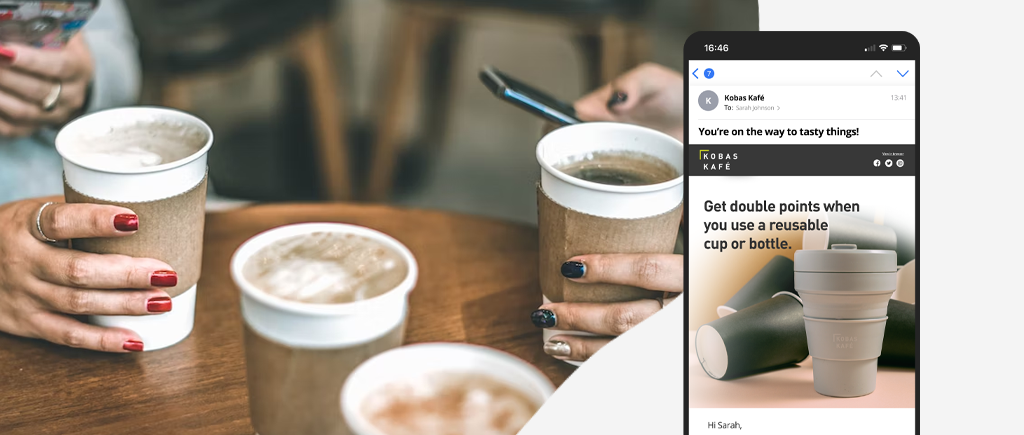 Keeping the cost of non-consumables low to retain a higher profit margin is important for most hospitality businesses and it's now very easy to achieve this with eco-friendly alternatives.
Search for sustainable ranges – Swap out plastic bags, food-to-go containers, cutlery, straws, and cups for biodegradable packaging instead. Most suppliers feature a sustainable range and at a very cost-effective price point too. They're just a Google search away!
Reduce single-use utensils – Don't hand out single-use utensils unless requested. If customers order through an app for Delivery or Click & Collect, you can provide them with the option by adding cutlery as a product modifier against specific items.
Reward sustainable choices – Encourage your customers to reduce their use of single-use products by handing out extra loyalty points when they decide to use reusable items – like a coffee cup. You may even want to bring your own sustainable merch into the mix by selling branded takeaway cups. Manage loyalty campaigns just like this with ease using the Kobas restaurant loyalty app.
Find print alternatives – Deploying a mobile ordering app is a great alternative to paper menus (which often need to be reprinted when your menu changes). Customers can order and pay from their own devices, and you can easily update the menu at any time in the cloud and away from your venue. No printing needed.
Choose eco-friendly paper – If mobile ordering isn't the right route for your specific business, then get your hands on eco-friendly paper menus. Most printing companies today offer sustainable printing options. From as little as 25p per print, you can find options such as 100% recycled paper and paper partly made with straw and other agricultural wastes.
Reusable containers in the kitchen – Cut down on cling film by packing up your stock in reusable containers or using beeswax wrap.
Other tips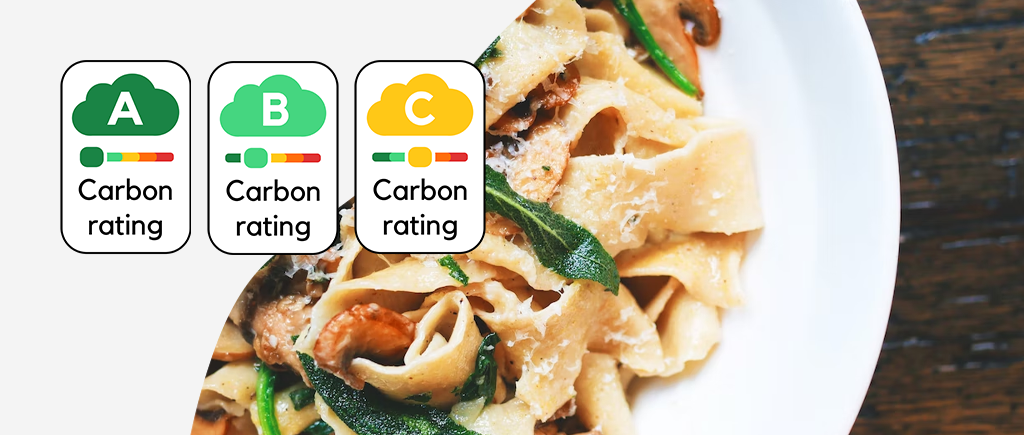 Look at what others are doing to encourage businesses like yours to become more sustainable. Take 'The Michelin Guide' for example, which revealed its 'Green Star' in a bid to encourage restaurateurs to make more sustainable choices. Today, around 300 restaurants hold a Green Star.
Talk to your suppliers about packaging. Can they deliver produce in reusable crates as opposed to plastic or single-use paper bags?
Reuse your glass bottles and jars for sauces and oils.

Going green with your appliances isn't only a benefit for the environment, but for your operating costs too. The upfront cost of energy-efficient appliances may be higher but will cost less in energy usage over time.

Take a look into low-flow sinks and toilets, sensor taps, LED lights, and Energy Star certified fridges and freezers.
Reduce carbon emissions from your delivery orders by assigning drivers to dedicated areas. You may also want to consider electric scooters / bikes.
Fo

r food halls and food markets with lots of space, add split recycling bins around the premises.

Add carbon footprint ratings to your menu to highlight the importance of sustainability and to further educate your customers. The Canteen in Bristol is the first in the UK to add carbon emissions to its menu, showing the environmental cost of every meal. It's an interesting concept – who knows, one day this might even be the norm.
Sustainability practices are only as successful as the team behind them. Ensure your team have the training and understanding needed to follow your processes.
Share your strategy with the world by adding information on your website about your sustainability processes and goals. Be vocal on social media too, you'll be surprised at how many restaurants will consider following your steps.
Want to see the Kobas system in action?
Kobas enables teams across the hospitality industry to manage all areas of the business, from one connected and complete system.