We recently sent Kobas Account Manager Luke and EPoS Support Technician Rohan on a rather unusual install adventure, a long way from their London homes! Two long days, three new venues, and at least four modes of transport later, Luke tell us how it all went down.
---
Monday, 7am, Kings Cross. I grunt something approximating a greeting at Rohan, our EPoS Support Technician. He returns the gesture and it's clear that neither of us have any desire to be awake at this time, let alone sat on a platform at St Pancras waiting for the first of many legs of our epic install road trip.
Despite our tiredness, however, we're excited. We are about to embark on a journey to deliver Kobas to three new venues!
First two modes of transport down (a comfy 2-hour train ride with a taxi at the other end) and we arrive at our first stop – Sheffield. It's a chilly kick off for us Southerners (particularly Aussie Rohan), but we're raring to go in the city that is rapidly becoming Kobas' second stomping ground.
Lively pub/venue/hotel The Harley is the first of the day to get the Kobas treatment. A warm welcome from the team and a very smooth installation sees us all wrapped up just in time for lunch.
The timing was fortunate as our next stop, super cool cocktail and craft beer bar The Wick at Both Ends, had just opened their kitchen for the day and is only a short walk down the road.
With no real idea what to expect apart from fairly standard pub fare, I have to say I was very impressed with our lunch! It's clear a lot of consideration has gone into The Wick's menu and I can personally recommend the potted ham if you happen to be in that neck of the woods.
With our all important refuel out of the way, it was time to do what we were actually there for and get The Wick up and running with Kobas.
Mission complete in Sheffield and it's time to move on. On to Liverpool to be specific, via another train. We weren't in Liverpool for an installation however; we were on our way to Belfast, which meant we needed to find our way across town to the port to catch a boat – all good fun!
There aren't too many foot passengers that take the ferry these days and there was barely a handful of us on this overnight trip that weren't lorry drivers. It's pleasant enough, there's a free, but small, cinema and food that reminds me of a Holiday Inn but at least the beds were comfortable.
Tuesday, 5:30am, somewhere near Northern Ireland. We are woken by the announcement that we'll soon be arriving into Belfast. More early morning grunting at each other ensues.
More excitement though, as we are off to see award winning Fish & Chip Takeaway – The Salt House.
Despite the early hour, we waste no time in setting to work on our final install of the trip, introducing our modern EPoS into a classic business – now you can even join their digital loyalty scheme!
From there we had plenty of time for a catch up with the Salt House team at their HQ and check out the beautiful scenery of Bangor. They even treated us to some of their brilliant fish and chips for lunch.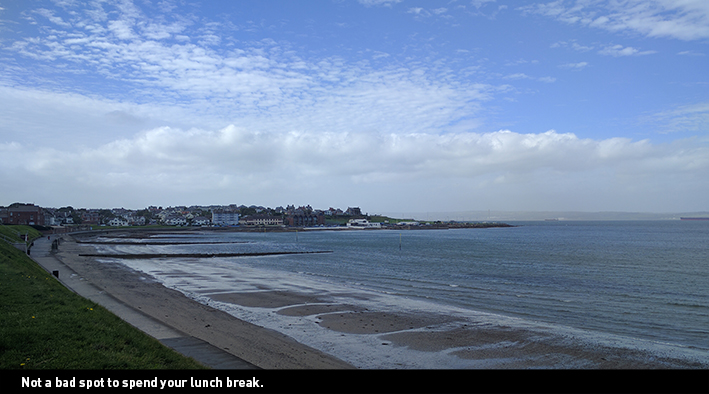 And with that, our work was done and it was time for the final leg of our journey, a short hop on a Flybe Dash-8 plane back to London City airport. It doesn't end there though, with more sites opening and new businesses choosing Kobas we have plenty more adventures to look forward to. Hopefully, the next ones don't involve waking up quite so early though…