Staff are the lifeblood of any business and in a few industries is this felt more strongly than in hospitality. This year has thrown a lot at all of us, but hospitality workers have been on the frontline, not only providing service but also ensuring the health and safety of their customers in constantly shifting circumstances throughout this pandemic.
Our main aim here at Kobas, is always to make life easier for our users – both customers and clients. During Covid-19 where restrictions in hospitality have been challenging, our new table ordering application has allowed staff to limit contact with customers whilst providing speed of service and secure payments. Unfortunately, this has limited the scope of tipping options, as payment has been taken through an online portal.
With our latest update to our online ordering portal, also known as the Customer Interaction Centre (CIC), we're delighted to make it simpler than ever for our newest users (our clients' customers) to tip and reward hard-working staff in a range of ways.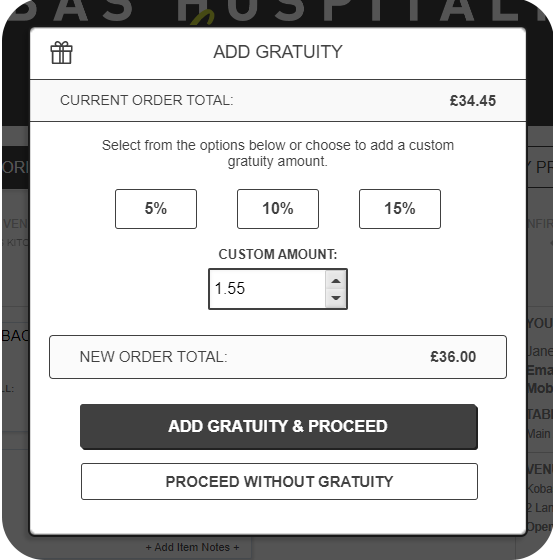 With this new feature, you can preset custom percentages or automatically apply a default percentage at the checkout stage which a customer can then choose to remove if they wish.
We are very happy to release an important feature that will provide such a direct benefit for our users and we hope to see generous customers across the country reward the frontline staff who keep things moving as we enter the festive period and the end of what has been a long year.
---
Want to know more about Mobile Ordering? Or need help setting up your gratuity/tips in Kobas? Head over to our Knowledge Base article.