Around this time last year, the new kid on the Kobas block was the EPoS Menu Manager. In 2020, the focus has been on our Customer Interaction Centre (CIC) and then its Online Ordering solution. As we approach the end of 2020 and the final stretch of development on Online Ordering, it seems fitting that we revisit the EPoS Menu Manager, where it all began.
On a technical note, the Menu Manager and the CIC are the first Kobas pages to be developed in ReactJS, a modern framework for building interactive single-page applications. On a less technical note, it means we can load in thousands of items in a fraction of the time it would otherwise take, and makes it easy to build nifty functionality like the drag-and-drop aspects of the Menu Manager.
Technology aside, at Kobas our mission statement is to give hospitality operators a complete suite of tools to run their business. With the introduction of Online Ordering, things have changed a bit. We've had more than 150,000 people place an order through our CIC since July and we want to make sure that all these users have the perfect experience too.
---
Enter: Time Restrictions.
As we approach the festive season, having a roast dinner on any day of the week feels normal, but for most of the year, our clients are used to offering a roast dinner on the traditional Sunday. These clients want their roasts available in the CIC, but their users should only be able to purchase them on the day they're available.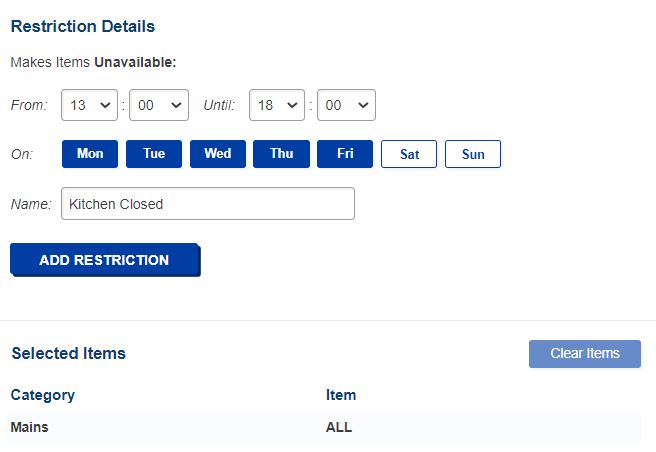 Another use-case we know our clients have, is that their kitchen closes between lunch and dinner service and food is not available for purchase in these times. As the screenshot above shows, the new menu manager Time Restrictions feature allows a user to select item categories, days, and times, and combine them into a restriction where the items are not available.
Once saved, the restriction will apply to the CIC and block users from making a purchase.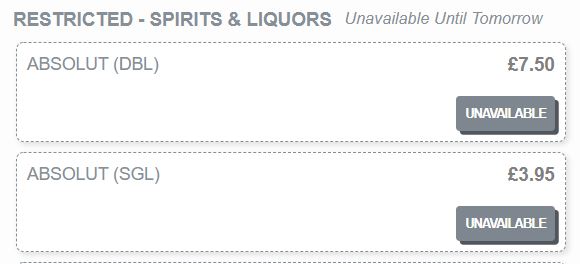 ---
It really is as simple as that. A powerful improvement to our ever expanding Online Ordering platform, and with support for Tipping coming very soon, and planning commencing for Discount support, there's much more on the way.