Kobas Loyalty: the ultimate customer retention and marketing system
This week we are delighted to unveil the Kobas Customer Loyalty platform, which is the result of months of research and development. Here is a loyalty system that brings the power of customer retention and targeted marketing typically reserved for the retail and hospitality behemoths straight to any Kobas customer. We've levelled the playing field, with clients such as Pizza Rossa already seeing massive success. Here's how it works.
Put a card in their pocket, or a QR code on their phone
You'll need to decide whether your customers will carry a credit card sized loyalty card, or whether they'll show a QR code on their mobile phone. Kobas supports not just either of these, but both of these, so mix and match if that suits. One of the benefits of our system is the flexibility it gives to use whatever form factor you'd like. So RFID can be: a card a customer already owns, a branded card you supply, a key fob, a sticker or any other form factor in which RFID is available.
If you already use our iPad app you can scan QR codes using the iPad's camera straight away, or you can add either QR code or RFID scanners to your tills. If you already use our barcode scanners on your tills for quick item scanning, those scanners will read customer QR codes too.
Sign customers up online or in store
Your Kobas Loyalty account comes with a dedicated customer rewards website that's hosted on your domain and branded the same as your main website. Your customers can sign up here or in store at our EPoS terminals.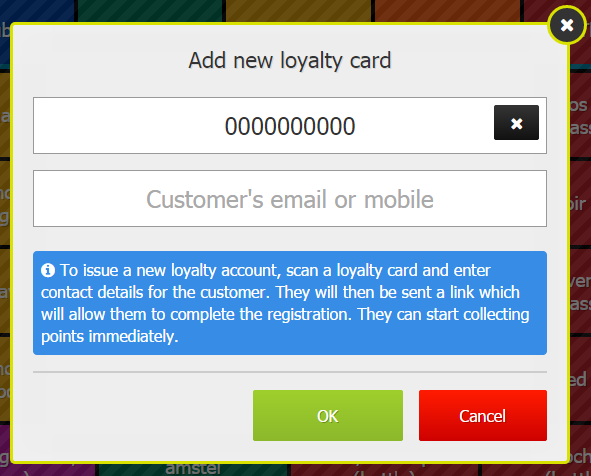 At your venues it's as simple as taking a customer's email or mobile number using our EPoS to sign them up to your loyalty scheme. If you want to give them an RFID loyalty card you scan that too, otherwise we can generate a QR code for them. Alternatively, and this is a great idea if you are purely London based, you can invite the customer to use any RFID card they already carry, such as an Oyster card.
They'll then receive an email or SMS straight away asking them to confirm their interest, and we take a few more details from them online in your branded customer rewards website.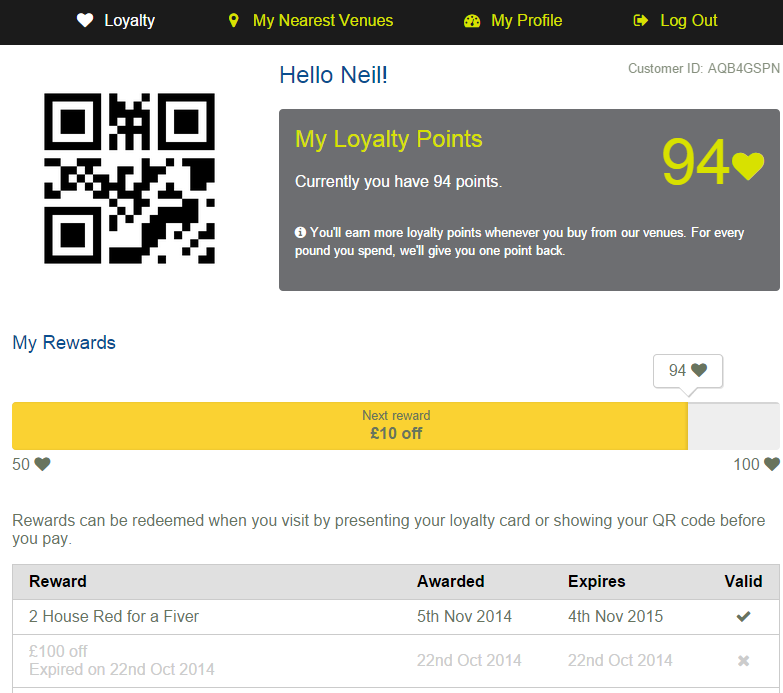 It's all about reward points
Your customers earn a point per pound they spend with you just by showing their QR code or RFID card. It's then up to you as to how you reward your loyal customers. Decide how many points a customer needs to earn any standard EPoS discount or voucher, and it'll all happen automatically. You can even award discounts for signing up to your rewards scheme or automatically for a customer's birthday!
Work that relationship

Once you've got your customers onboard, you can quickly and easily identify your most loyal customers. If you've also chosen the Kobas email marketing option, you'll find your new customers are all ready and waiting to receive that exciting email campaign you've been working on.
For more information on Kobas Loyalty or any other aspect of our comprehensive hospitality management solution, please get in touch!