With the GDPR deadline of May 25th looming, it's important to get a handle on where you stand with the data that you hold. That's why we have already created tools to automatically erase outdated data, as well as a home-page widget that shows users the information that we hold on them.
This latest update allows account administrators to manually erase former staff profiles on demand, in line with GDPR stipulations on "The Right to be Forgotten".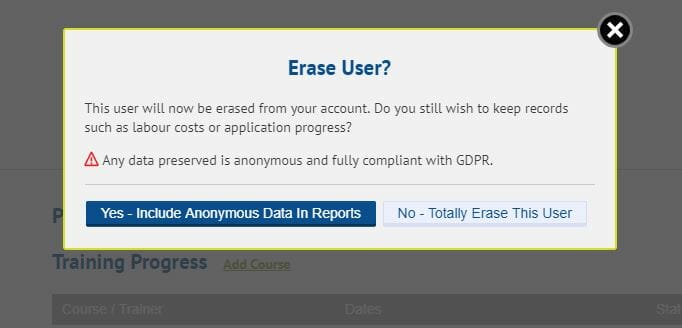 Before I begin, I should note that the erasure of data in this instance, is non-reversible and so the greatest of care must be taken in this area. For this reason, we've not tied this action to specific permissions that can be granted to users, but instead it is a power that is only available to those in the Administrator user level.
How?
When accessing profiles under Staff > Former Staff and Staff > Rejected Applicants in Kobas Cloud, you will now see an Erase Staff Member button at the top of the page. Once this has been clicked and confirmation given, you will be presented with two options: Include Anonymous Data in Reports and Totally Erase This User.
The first option is perfect for former staff members that have worked in your business and affected labour costs. This option will erase their personal details, but keep historical pay rates and hours worked, ensuring that your labour reporting remains accurate.
The second option is perfect for staff members that have been added in error; for instance, if a duplicate profile is created for an existing New Starter. This option will remove that profile completely from Kobas and this will affect any stored data on that staff member, in terms of labour costs and staff turnover.
---
This latest update leaves us in very good stead in terms of GDPR compliance, with our Staff section now being fully locked down. Our loyalty offering is generally compliant thanks to the double opt-in policy we already adhere to.
We will also be adding a new option to allow loyalty customers to terminate their account manually, which will conclude our work in this area.