Kobas has always been involved in everything your business does, across our four pillars: EPoS and In-Venue Systems, Operations, Staffing and Customers. Today, we are pleased to announce the arrival of a significant upgrade to the Customers pillar.
We can now unveil the initial release of what we are calling your Customer Interaction Centre (CIC), a cutting edge portal that will evolve into a comprehensive resource for your customers.
Building on the Past
Since 2014 Kobas has offered a loyalty scheme with a customer web portal which has proven hugely successful for our clients. To the naked eye, this isn't changing (though we are updating the styling a little), but behind the scenes we have started again from scratch. Your customers will still be able to see their points, vouchers, past transactions, nearest venues and update their profile, but this overhaul lays the groundwork for many additional features.
Old Look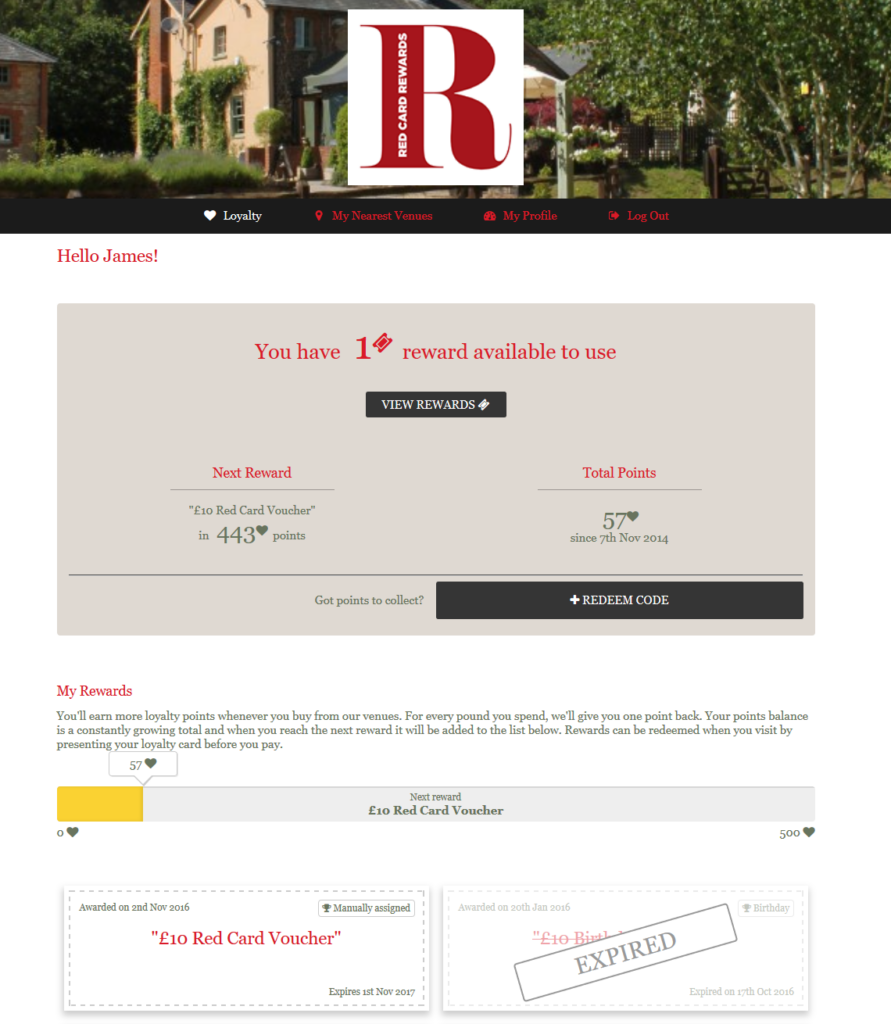 New Look
Allergens & Bookings
As you may already know, Kobas allows you to store allergen and dietary information for each ingredient and till item (PLU) you sell. Now, with the arrival of the CIC, Kobas puts this information directly into your customers' hands in a straight-forward and really useful way.
Using the CIC's allergens section, your customers are now able to select their allergies and/or dietary needs, and Kobas will use real-time data from your menus to show them what they can and can't have. The best part is they don't even need to have an account to do this; they can simply scan a QR code on your menu with their phone's camera and Kobas will load your menu's allergens view straight away.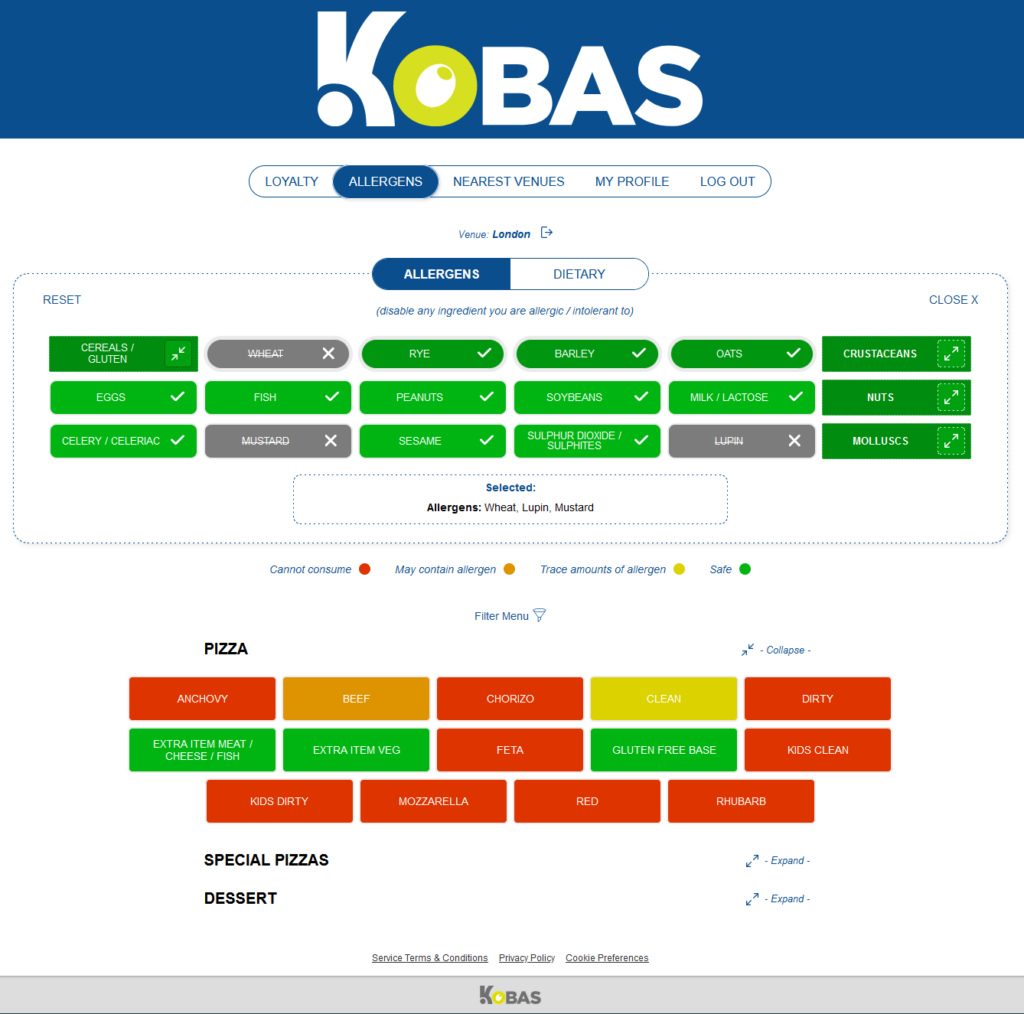 Many Kobas clients allow their customers to book rooms and tables in advance. The CIC will soon allow your customers to book tables and areas via our integrations with Collins & ResDiary, and book accommodation via Inn Style. As your customer will already be logged into the CIC, this will greatly reduce the friction and time required to place bookings, which is a win for everyone.
Mobile Apps
Given their explosion in recent years, one of the most commonly requested additions to our old loyalty portal was the ability for it to function as an App. This is something we have always resisted because this author doesn't believe they have a long term future in their current guise, a stance that is supported more each day and helped tremendously by the arrival of the Progressive Web App (PWA).
The key difference between a native app, such as you would find in the App Store or on Google Play, and a PWA, is that a single PWA can work on iOS, Android, PC, Mac and just about anything in a single format. This is recognition that modern websites can look, feel and function in a way that is indistinguishable from a native app you've had to install.
A large part of our decision to rebuild the portal from scratch was to ensure that the new Kobas CIC is complaint with the PWA standards, and when phase 2 of the CIC is released later this year, each Kobas CIC client will automatically have a PWA. This meanst that when visitors navigate to your CIC in a browser for the first time they will be offered the option to install the App on their home screen, giving them 1-click access, along with persistent login, some offline capabilities and full screen viewing (not in the browser). All this without having to load the store, download and install your app – this is the future of Apps.
Flexible Features
Some clients in the past were unable to take advantage of some of the features in our customer portal as it was predicated on running a loyalty scheme, and not everyone wants to (though our data says you should). We also know that not every client is going to need the same set of options: a QSR is never going to need table or room bookings while a cocktail bar may have no need for the allergens section, and not everyone will want everything at the same time. To solve this problem, each function in the CIC can be activated on an individual basis mean your customers see exactly the CIC you want.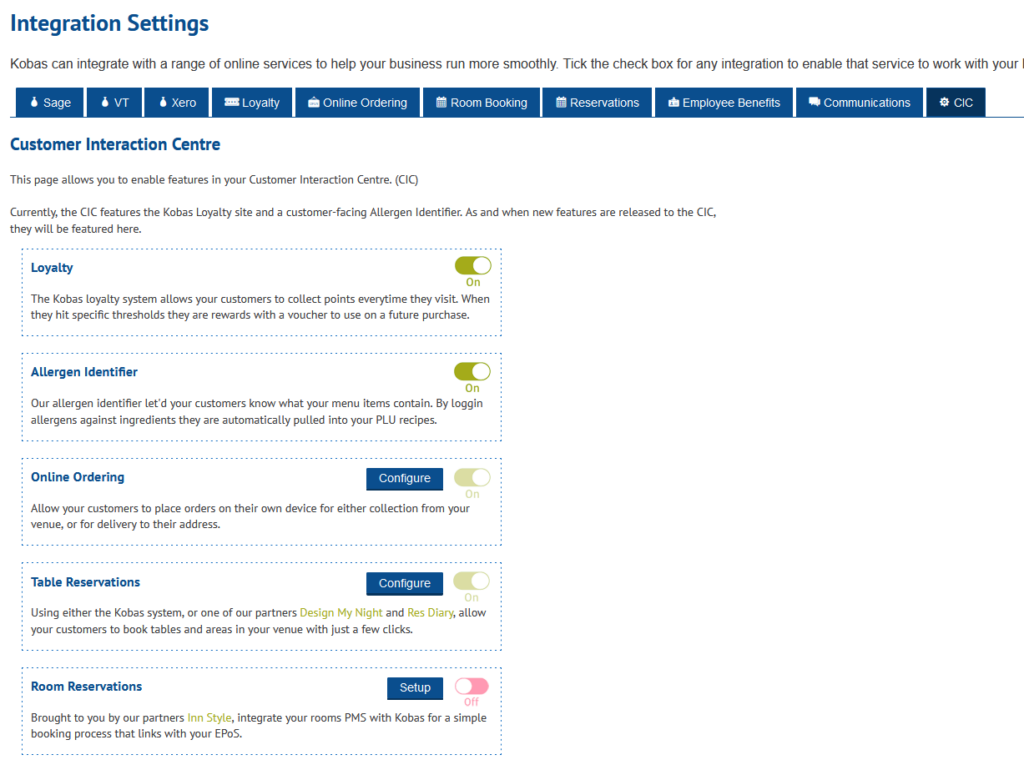 The Road Ahead
This flexible approach also allows us to release new features as and when they ready, and we've got an exciting line up of features arriving in the coming months and years. The below list is subject to change and not in any particular order, but you can expect us to add features like:
Self-Ordering – for either delivery, collection or to your table.
Recruitment – the current standalone portal will be added as a part of the CIC.
Pre-paid balances – a way to speed up transaction times and improve cash flow.
Gift Cards – digitally available and seamlessly integrated with your EPoS.
Pay / Split the bill – again, seamlessly integrated with your EPoS.
Corporate Accounts – with credit facilities and weekly / monthly billing.
Guest Feedback – linked to actual transactions.
Membership.
Virtual Queuing.
As you can tell, we've given a lot of thought to how our client's businesses work and what their customers would want to get from an App to make it worthwhile. We think this list of features would make for a compelling, best-in-class, offering that everyone would be proud of. To get your CIC setup, or for more information, please contact your account manager.