We are delighted to announce the immediate availability of the Kobas Cloud EPoS Simulator. It's an industry-first application that allows in-venue EPoS menus, discounts, price-bands and tab management to be replicated and tested from anywhere in the world at any time; all that's required is an internet connected device.
How is it useful?
Kobas Cloud has an EPoS menu layout manager which allows users to create, style and locate PLUs on EPoS menus, a price band manager allowing PLU prices to be automatically adjusted at certain times in certain venues, and a discount manager which allows users to create and manage discounts. In order to put these menus and discounts into use, a physical EPoS rig needs to be used and connected to the right Kobas Cloud account.
This means that previously, in order to test menus, pricing and discounts, a Kobas Administrator must either be in a trading venue, or they require a physical test EPoS system at a centralised head office location. This situation has downsides, especially where venues are geographically dispersed, or Kobas Administrators can't be at a centralised head office, or there's no space there, or a lack of funds.
The Kobas Cloud EPoS Simulator allows Kobas Administrators to easily test menus, pricing and discounts from anywhere with internet access and a web browser.
There's another killer feature. The Simulator allows an Administrator to not only effectively be at a till in a particular venue – it also allows them to simulate using that till at a particular day and time. This is an enormous benefit when it comes to testing discounts or price bands that affect basket costs at certain times of day. Want to know how a meal deal discount will co-exist with your Monday evening Happy Hour price band? No problem, just set the simulation for Monday evening, pop those meal deal items in the basket, and rest assured all will work as you expect.
How do I use it?
The Simulator is available to any Kobas Cloud user who has the Administration -> Hardware Management permission, and can be found in the Venue Manager within Cloud's Administration section.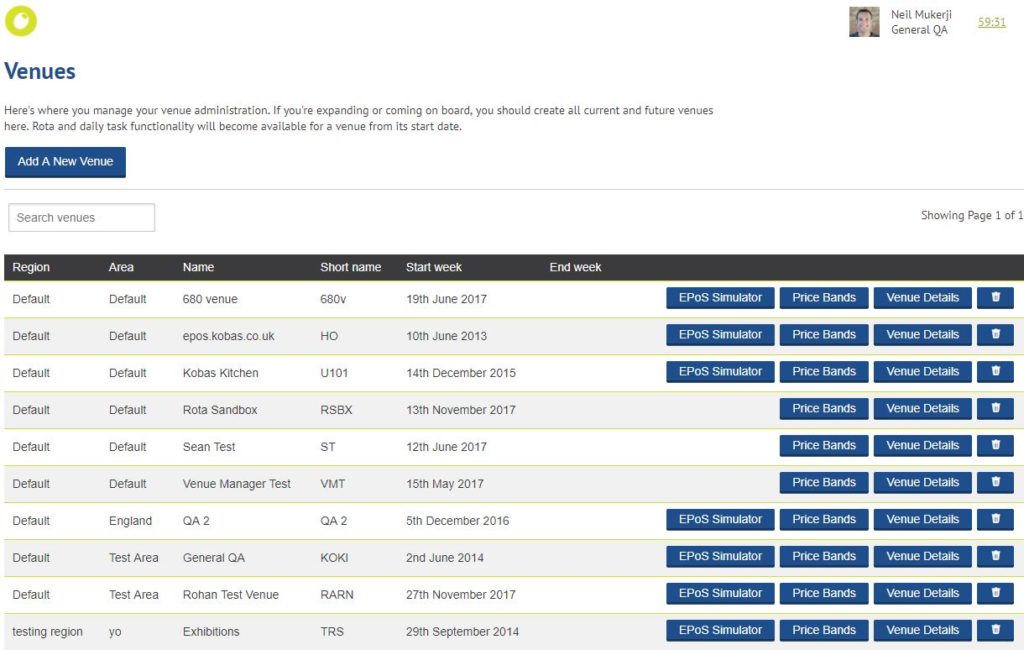 If you have that permission, a blue EPoS Simulator button will appear next to venues that have an EPoS menu assigned. Clicking that button will launch the Simulator application in a new browser window.
It'll take a few seconds to load, as we really are spooling up a virtual EPoS machine for your chosen venue. It'll establish all the settings for that venue's primary till, and then perform a download data, leaving you with a Simulation for the current date and time, with the latest menu, and a clear trading slate.
What are the limitations?
This is a simulation for test purposes only. It isn't an actual view of the till; there's no remote control happening here. It can't print anything, fire cash drawers or interact with card machines. Clock in/out and sales information won't actually find its way to Kobas Cloud. It can't make a cup of tea. We are disappointed about that too.
---
Overall, we believe the Kobas Simulator is another leap forward for hospitality management. This combination of our two core products demonstrates the power of having a central technology provider with vision and a passion for making life easier in every area of hospitality businesses. The Simulator is available now, to all clients, at no extra cost. We hope you enjoy using it!