Because of the digital revolution, it's almost impossible not to build an online presence for your business.
Missing the chance to promote your café or coffee shop online means losing out on opportunities for you to entice new customers, grow your sales, and succeed in the long run.
You might have seen cafés and coffee shops on Facebook and Instagram. They consistently publish awesome photos, engage with their customers, and share relevant content. More importantly, it lets people know that they exist and why they should visit. But, that's only part of the puzzle.
In this post, we'll walk you through the reasons why coffee shops and cafés must be online to boost their presence and bottom-line.
1. People start their research online
Nowadays, most people will turn to the internet when researching more about a business.
If potential customers want to learn more about your café or coffee shop venue, the first thing they'll do is look you up online. In fact, 77% of diners check websites before making a visit! If optimised correctly, search engines will give them precisely what they're looking for in seconds.
It's advised to make it as easy as possible for your customers to find key information about your business such as where your venue is located, opening times, reviews, and photos. Ideally, they should be able to find everything they need with a simple Google search and in seconds. You can utilise free tools to help you do this, like Google My Business and Bing Places. These will allow you to promote your business locally, share key information, and boost your visibility. An essential aspect of promoting your business online is showcasing it through appealing visual content. For instance, you may want to consider using a collection of copyright-free images from sources like Freepik to beautify your online profile. This can help to catch the eye of potential customers and give a more vivid impression of what customers can expect when visiting your coffee shop.
2. A website drives new traffic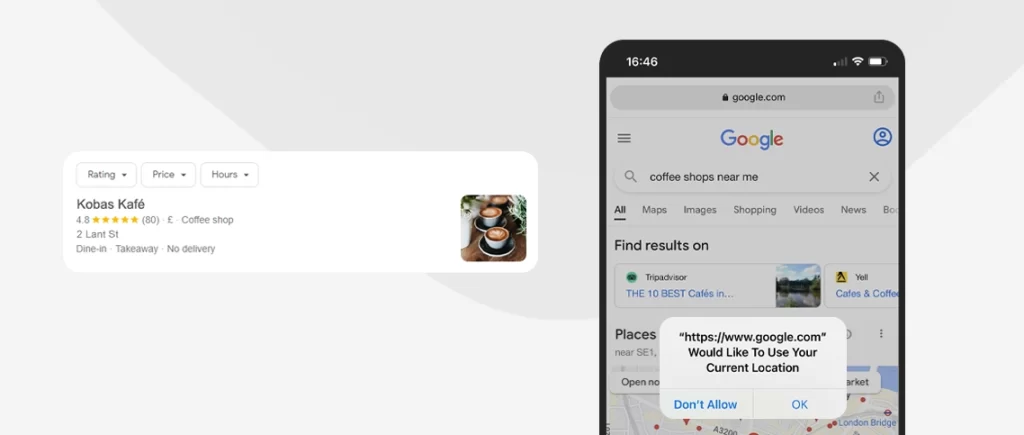 Having a website for your café or coffee shop is crucial for driving new traffic and footfall. One of the best things about the internet is that new customers can stumble across your website easily if it's linked on your Google Business profile, optimised for keywords such as "coffee shops in [city]" or "award-winning coffee shops", and linked on your social media.
The more traffic you can get to your website, the higher the possibility of increased footfall and sales.
3. You can sell products online
Another advantage of having a strong online presence is that you can sell products online. Through your website, visitors can easily find, browse and pick various items you're selling in-store or online. The most popular examples for coffee shops and cafes are ready-to-brew coffee, coffee beans, merch like reusable coffee cups, and digital gift cards.
When you start your ecommerce website, it also gives search engines like Google a chance to learn more about your business, helping to bring more online and foot traffic to your store at the same time. For example, someone may come across your website after initially searching for coffee beans to buy online. If they like what they see and after spotting you have a walk-in venue, it may encourage them to drop by.
By adding an ecommerce element to your website, it also makes it easy for you to promote your products on various social media platforms, and even easier for your followers to purchase in just a few taps.
4. It allows you to create an excellent first impression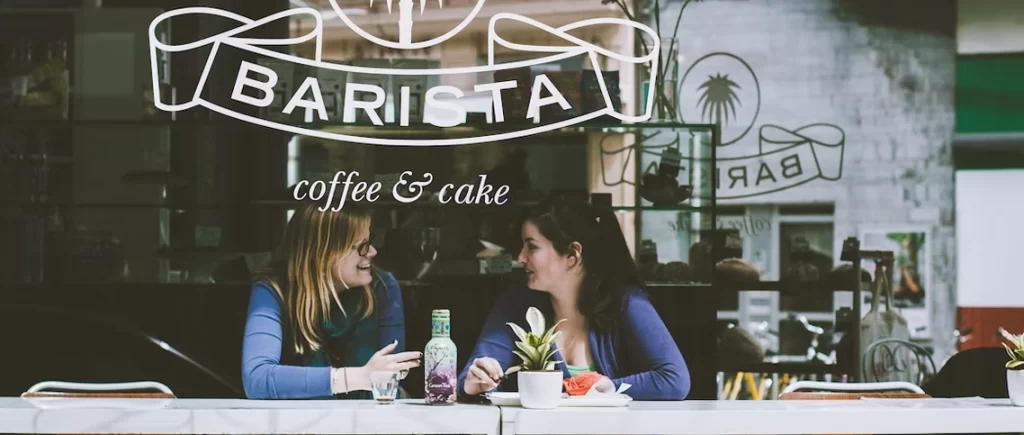 In this highly digital age, having a website for your café or coffee shop is like having a window for your business on the internet. Ensure you include all critical information such as contact information, menus, and allergens.
Providing this allows customers to create an impression that you're an established business with all the possible solutions to the requests that they might have.
Remember, your site should have a UX/UI design that's easily accessible to anyone and easy to navigate. Ideally, focus on creating a highly intuitive site that is mobile-first as 60-80% of customers browse for food establishments using their mobile.
5. It's easier to tell your story
Owning a site allows you to show your brand identity, tell your story, and connect with your audience.
You can use your site as a medium to publish stories on how you started making coffee for people, your mission, and your purpose. You don't have to overcomplicate it – just stay true to who you are and add some brand personality into your writing.
Be authentic. No business stories are the same, which makes you unique from the rest of the pack. This helps to build a personal brand relationship with visitors.
6. Builds brand trust and patronage
Most of your potential customers are on social media, so they expect the same thing from you. Social media allows you to personify and engage with your target demographic.
By having an active social media presence, you allow people the opportunity to interact with your brand. Using mentions for user-generated content can also work wonders for brand awareness and drive more sales.
There's no doubt that social media is one of the simplest yet most effective ways to get people to be interested in your brand and form meaningful relationships with others. And, it's free! Thus, this isn't something that should be overlooked.
Always add a link to your website for easy access to more information.
Make it clear how potential customers can make a booking with you. Most customers expect to see this in the form of a reservation widget on your website.
Promote promote and promote your loyalty program to drive repeat visits.
Create fun social media campaigns to increase your online reach. Having followers share content on their stories to enter a competition is a great option.
Engage with your audience. Reply to comments, search for your venue in locations on Instagram and like posts from customers, and share their posts on your story.
7. Helps you stand out from the competition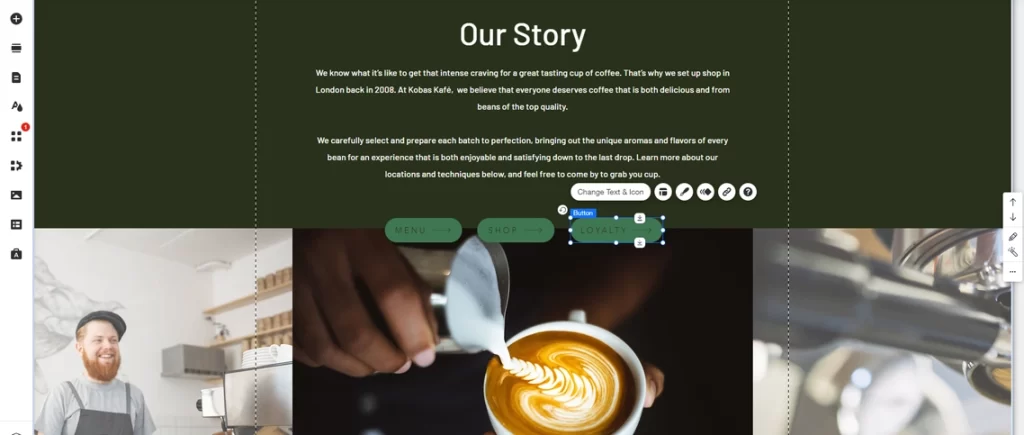 A lot of coffee shop owners hesitate to have a website. They think it will come with a high price tag and that all they need is social media to bring in sales. However, this is to their detriment.
Without a website, the number of potential visitors you are missing out on can be substantial. If you want to stand out from your competitors, you can still achieve this and without spending a fortune.
There are many online website builders available today, making it easy for others to create their own site. Those such as Wix has themes to choose from, drag and drop features, and more. It also walks you through setting up certain parts of your website, such as purchasing and setting up your domain.
A well-optimised, reliable and modern website does take some investment in time. You will need to factor in the page structure, copywriting, product imagery, SEO, and more. So, if that's something you don't want to dive into, there are many fantastic hospitality marketing and web agencies who can do this for you at a very reasonable rate.
Over to you
There you have it. There's no doubt that you need to have a solid online presence for your business to stand out from the crowd. Not only does this let your target customers find your brand, but it gives you the opportunity to nurture relationships and start increasing footfall.
If you're a small business, investing time in social media and a website can be challenging at first. But recent global events prove that your business environment and customers' online consumption habits can easily change overnight so it's important to stay ahead.
A great online presence and your physical store are the recipes for your online success. Good luck!
Want to see the Kobas system in action?
Kobas enables teams across the hospitality industry to manage all areas of the business, from one connected and complete system.