Serving up delicious dishes and delivering great service are two of the most important factors when it comes to providing a great customer experience at a restaurant, but is that enough?
The hospitality industry is fast-moving and competitive, with many customers now looking for the complete package when they dine out. So, if you mean business about creating the best dining experiences and driving repeat visits, here are some tips to consider.
Start the experience before the visit
A customer's experience begins before they even walk through the door. It actually starts when they're searching for a restaurant to dine at.
Appear on Google for localised searches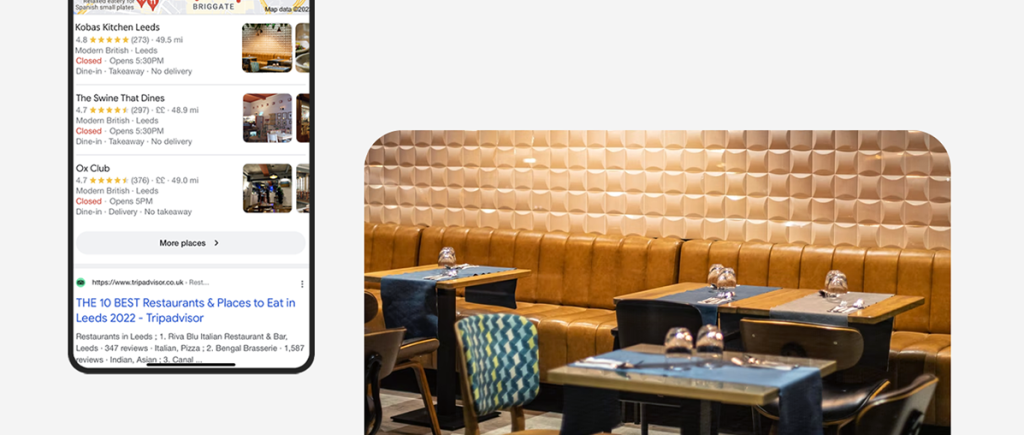 Many guests will begin their search by heading over to a search engine, using terms such as "best restaurants near me", or "best restaurants in [city]".
By creating and maintaining your free Google Business Profile, not only will it be easier for people to find you, but it offers convenience. Your Google Business Profile contains everything a customer initially wants to know in just a few clicks – opening times, location, reviews, photos of your food and inside the restaurant, and a link to your website.
Have a responsive website
Experiencing a slow, unresponsive website is frustrating. In fact, it's frustrating enough that it can result in a user bouncing off your website and returning to their original search to find a different option.
A survey stated that 77% of diners visit a restaurant's website before dining there and a huge 70% stated they had been discouraged from visiting a restaurant because of its website. Don't let this easy-to-avoid situation ruin the initial experience for potential guests.
Consider the following for your restaurant's website:
A fast loading time and a responsive design that is optimised for mobile.
An easy-to-navigate menu to allow for quick browsing.
Feature your menus including clear dietary, allergen, and nutritional information.
A photo gallery – customers love to see what delights they can get their hands on.
Include links to your active social media channels.

Highlight information about your

customer loyalty program

.

Utilise an integrated table booking system.
Don't forget the basics – your story, address, phone number, other venues (if applicable), and a web form.
Make it easy to place bookings
Customers don't want to jump through hoops to place a table booking. Fortunately, technology helps to make the reservation process efficient and many customers seem to like it that way. Insight produced by Kobas shows that between January 2022 and June 2022, approximately 1% of hospitality venue bookings were made via a phone call, whereas 86% were placed using an online booking system.
An integrated reservation platform is a favoured route for many customers as it factors into the efficiency and convenience we've become accustomed to. With a handy widget on your website, users can view available days and times, place a table booking, and receive a confirmation email in a matter of minutes.
Be active on social media
Social media is often used as a place to do further research, or as a search engine to find the best spots to dine at. And, around 45% of diners are influenced by social media, so it's important to be active and get your latest and greatest posts out there.
Make it easy for customers to find you by using hashtags and adding locations to your posts – there are currently over 790,000 posts using the hashtag #londonrestaurants on Instagram.
Utilise available features for ease of booking, such as Facebook's 'Book Now' call to action.
Craft an atmosphere
The atmosphere at a restaurant is vital and can contribute to a customer's perception of your venue and the decision to make another visit.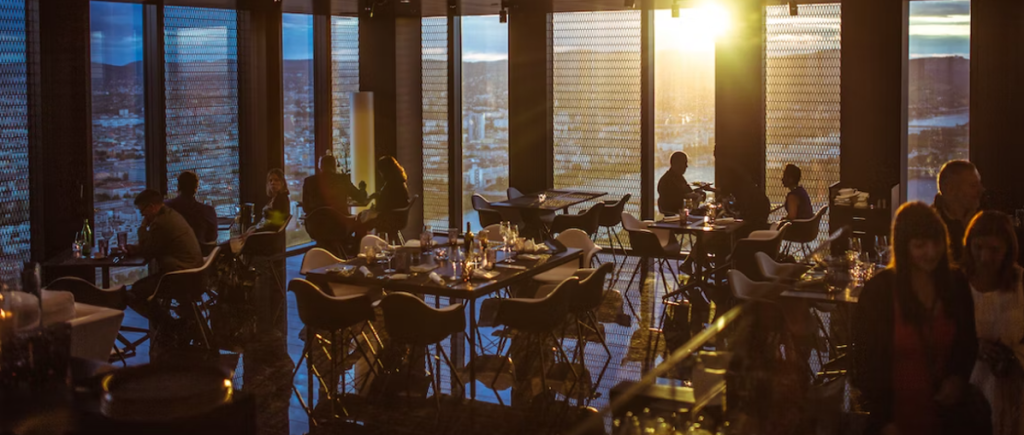 Lighting
There's a certain ambience that comes with the lighting used in a restaurant. For example, at a Quick Service Restaurant (think grab-and-go food), guests expect speedy service. Bright fluorescent lighting helps to stimulate customers' minds, encouraging faster decisions and quicker eating. In comparison, low-intensity lighting creates a relaxing and intimate feel, and is better suited to a fine dining establishment.
Décor, furnishings, and layout
Sight is just as important as taste when visiting a venue. No matter who your target customer is, there is always something you can do to enhance the experience for them through décor, furnishings, and the layout.
Plan spaces to accommodate varying experiences. For example, if you run a busy gastropub venue where customers tend to stay for long periods of time, you might benefit from having a comfortable area for relaxed drinking, a separate area with tables for dining, and a space for alfresco dining.
Avoid putting tables too close together, near toilet doors, or near kitchen doors.
In the age of Instagram, create a space for photo opportunities. Be creative and on-brand to attract social media attention and increase your online reach.
If your menu focuses on a specific cuisine, customers will have a preconceived idea about the décor. Incorporate aspects of the cuisine's culture and tradition into your restaurant's interior design for added authenticity. Of course, this can be done in a way that works for your brand goals.
Music
When crafting a great atmosphere, the choice of music should suit your venue and overall mood. Calm music is well-suited for upscale dining, contributing to the overall relaxed feel. On the other hand, upbeat music with a faster pace works well for Casual Dining Restaurants where the noise levels may be higher.
Deliver memorable customer service
Memorable service can be the difference between a great experience and the best experience when visiting a restaurant.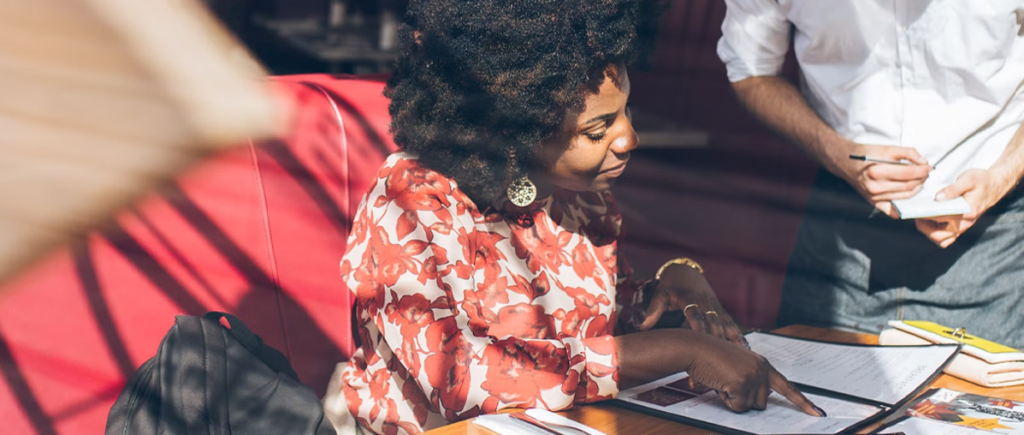 Train your team on restaurant etiquette.
Build strong company values and ensure they translate into the service provided.

Always provide a warm and helpful welcome.

Maintain a positive friendly attitude towards your guests.
Go the extra mile. If a couple has told you they're celebrating a special event, throw in a surprise dessert or cocktail. Let's be honest, we've all appreciated that at some point.
Ensure your team has thorough product training so they can answer questions accurately and confidently.
Provide easy-to-access allergen, dietary and nutritional information.
Be attentive and check in on your tables – don't leave them waiting for your attention.
Address regulars by their name to build a personal rapport.
Ensure the payment process is simple and streamlined by using integrated payments with your hospitality EPoS.
Give customers more control by providing them with the option to order and pay themselves with an order and pay at table app. This will help to reduce pressure on staff and decrease queues. The Kobas ordering app is used across many restaurants to do exactly this, helping to elevate customers' ordering experiences.
Serve up food that tastes and looks great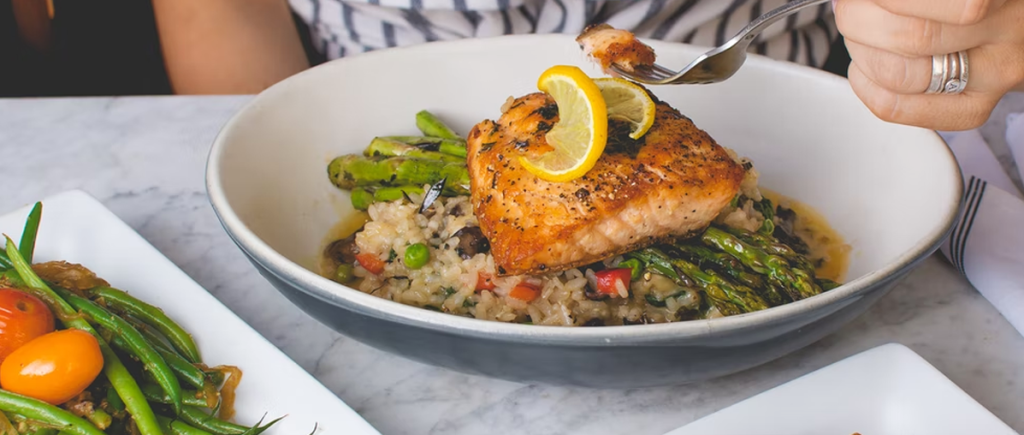 As for the main event itself – food. Research shows that the appearance of food impacts how people think (and even how good) something is going to taste. With extra time spent on presentation, your customers can form a positive opinion before they've even had a bite.
Social media has also amplified the love for visually appealing food, so it's worth considering how well your dishes photograph. They might just end up on social media for potential guests to see. It's advisable to consider using tools like Picsart to remove unwanted backgrounds from your dish photographs, ensuring that the focus remains entirely on the food itself.
On the other hand, food presentation isn't make or break for every type of restaurant venue. For Quick Service Restaurants, on-brand, interesting and sustainable packaging is a great way to add visual appeal.
Continue the experience after the customer leaves
The experience doesn't end once your customers leave the restaurant. Always continue the conversation by engaging with your visitors.
Send a follow-up thank you email to your customers. This process can be automated when using a comprehensive online reservation system along with an integrated CRM and email marketing platform.
Launch a customer loyalty program and give back to your guests. Promote the program on your website, with a special offer on the thank you email, or with a dedicated e-shot.
Use your EPoS, CRM system and email marketing platform (either integrated together or offered as a complete hospitality system) to capture more data against your customers such as their visiting and spending habits. Having this useful insight to hand means you can build meaningful and personalised email campaigns that will drive repeat footfall.
Other tips
Respond to your customers online to show you're proactive and care about their voice, whether that's replying to a comment on your restaurant's social media post, or an online review. Don't forget to inject brand personality into your writing to keep communication real.
Be consistent with the great experiences you provide.
Never stop learning about your customers – who they are, what they're interested in, and what they want. This will help you introduce processes that matter most to your specific target audience.
Want to see the Kobas system in action?
Kobas enables teams across the hospitality industry to manage all areas of the business, from one connected and complete system.