Introduce contact free ordering inside your restaurant, pub, bar or cafe, with the new To Table ordering mode as part of the Kobas Online Ordering solution.
---
Whilst teams within the hospitality industry have been working on ways to operate safely in line with social distancing guidelines, Kobas have been working on ways to help with new technology developments.
Recently, we announced the release of our Online Ordering solution, the latest addition to the Customer Interaction Centre (CIC). Initially, this was developed to let operators add an additional revenue stream into their business with Collection and/or Delivery options.
However, we haven't stopped there.
The Kobas team have expanded that offering by adding a third ordering mode – To Table.
This means that FnB operations can now accommodate for the growing number of customers who are ready to visit their favourite venues again. How? By giving them the tools required to place orders safely, directly from their own device.
How does the To Table mode work?
The process:
When visiting your venue, there are two easy ways for your customers to gain access to the To Table ordering option.
1 – By entering the URL into the browser (or finding the link on your website). This will take them directly to the consumption mode selector. There, the To Table ordering option will be available.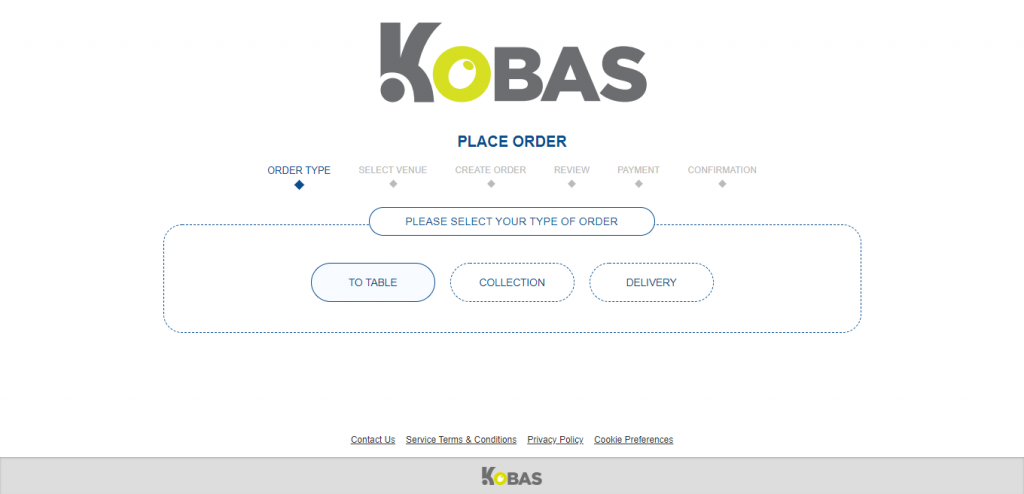 2 – Via a QR code presented on the table. This enables customers to gain access in seconds by using their devices camera to scan the code.
If the customer has entered the URL manually, or found the link hosted on the venue's website, they will be presented with a choice of locations. These are listed in order of closest distance, based on where you are or the postcode entered. The customer will then select their table number.
If they have scanned the QR code on the table, they will be taken to the To Table option directly, rather than being presented with locations. They won't even need to select their table number. Easy!
The user can then begin creating their order in their own time, selecting checkout once they are ready to place it. At this stage, a review page will be presented.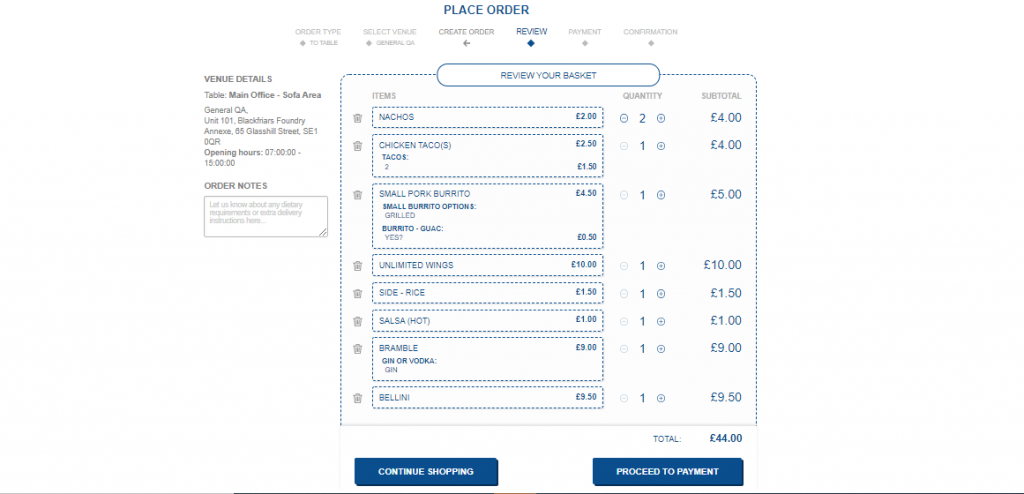 Next, proceed to payment. Upon selection, this gives the customer three options: sign in, sign up and checkout as a guest. If they have a loyalty account with you already and choose to sign in, then any points/rewards will be calculated and assigned to their Customer Loyalty account.
Once the customer inputs their card details, the payment will be authorised with the payment provider, but will not be confirmed just yet. First, the service staff are alerted on our hospitality EPoS that a new order has been placed.
From there, a member of the team will be given the option to accept or reject the order. When accepted, that will trigger an automatic confirmation of payment with the payment provider. Finally we let the customer know with an Order Confirmed notice on the platform. If you're in a busy venue and want to auto-approve orders, you can do that too.
An email receipt will be sent to the customer within a few minutes and the order is printed in relevant work areas such as the kitchen or bar, ready for preparation.
The benefits:
Reduces contact between service staff and the customer.
Increases revenue through automated up-sell prompts.
Enhanced customer satisfaction levels due to efficient ordering.
Increased accuracy across orders.
Elevated team productivity, ensuring that the focus is on great customer service.
Integrated seamlessly with the Kobas Cloud and all platforms within for full order, stock and reporting transparency.
Online Ordering has become key for operators recently and we're delighted our intuitive and feature-packed solution will help push FnB businesses forward again.
---
Want to see the Online Ordering solution in action? Book an online or on-site demonstration with one of our experts to learn more.
+44 (0) 20 7633 9449
contact@kobas.co.uk