In the contemporary digital era, businesses are constantly seeking innovative ways to engage with their customers and create memorable experiences. The hospitality industry, with its vast spectrum encompassing restaurants, bars, pubs, and more, stands at the forefront of such engagement-centric initiatives.
A tool that has gained significant prominence is video, offering an immersive, interactive and easily digestible medium that marries informational content with graphic appeal. Let's delve deeper into the myriad ways video can be utilized to significantly enrich the customer experience across the hospitality industry.
Virtual Tours
Innovatively employing technology, hospitality establishments can simulate a feeling of physical presence using virtual tours. These digital explorations of the interior and exterior of your restaurant, pub, or bar introduce potential customers to the ambience, aesthetic design, seating arrangements, décor, and overall vibe. Essentially, virtual tours prop the doors wide open to global audiences, allowing them a sneak peek into your establishment. This acts as a powerful branding tool that can attract more customers.
Showcasing the Menu
Pictures may say a thousand words, but a video can fill in the blanks by adding depth and character to these words. Showcasing menu items through video is a unique selling point that can make your establishment unforgettable to potential customers. Displaying signature dishes in their full glory, garnished to perfection, can whet appetites like no static image or written description can. If executed in the right way, this can significantly increase customer engagement and drive traffic. Even better, concise and well-crafted clips are a big hit across social media, demonstrating that your videos don't need to be elaborate productions in order to captivate your audience.
Highlighting Local Culture and Activities
Restaurants, pubs, and bars are irreplaceable parts of the local culture. They are the centre of socialisation and entertainment, and their appeal often extends far beyond offering food and drinks. While some are famous for hosting trivia nights, others might regularly feature live band performances or wine tastings. By using videos to highlight these features, establishments can portray themselves as more engaging and culturally immersed, making them attractive to both locals and tourists. To ensure that their video content reaches everyone, these establishments can add subtitles to video presentations. Companies can utilise tools such as VEED, an auto subtitle generator to create high-quality captions that maximise the digestibility of their content.
Behind-the-Scenes Insight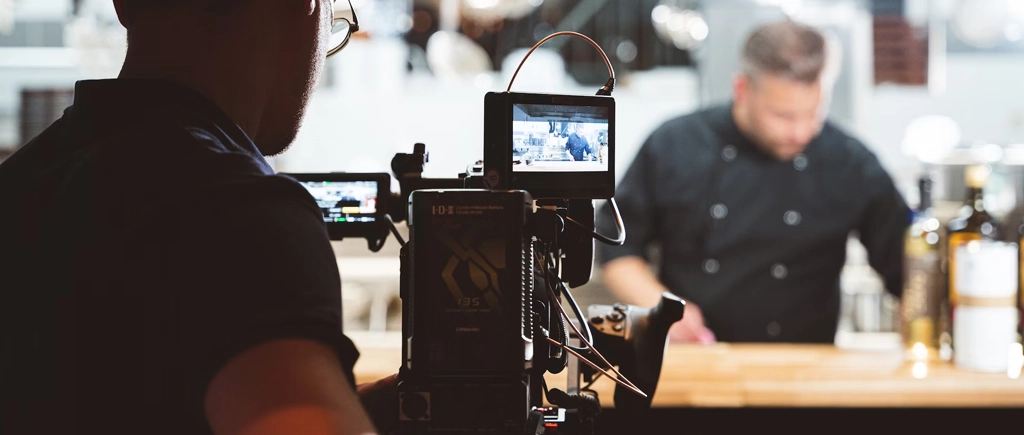 Consumers today value transparency, and there's no better way to showcase your business's standards and practices than with behind-the-scenes footage. Highlight your dedication to quality by showcasing chefs selecting fresh produce or mixologists preparing signature drinks, sharing impressive culinary techniques or displaying the bar's lively atmosphere during a busy weekend night. Videos such as these can set your establishment apart and create a lasting impression on your audience.
Staff Introductions
People-to-people connections often make experiences more memorable. Showcasing staff members — managers, chefs, bartenders, wait staff — adds a human touch to your business and makes customers feel more connected. Staff introduction videos can be a fantastic way to display the passion and dedication of the people behind the scenes who ensure customers have a memorable time at your establishment. Need some content ideas? Try personal staff takeovers on Instagram, a day in the life of, picking up on fun current trends, or using holidays such as National Cocktail Day to create introductory team content.
Customer Testimonials and Reviews
Word of mouth is still one of the most reliable forms of marketing. Digitising this concept, video testimonials and reviews can be a raw and sincere mode of advertisement. These shared experiences can create a persuasive narrative and influence potential customers positively, making them more likely to visit your establishment. Additionally, diversity in testimonials, including individuals, friends, families, or corporate groups, can appeal to a broader range of audience demographics. If a piece-to-camera doesn't align with your business style for testimonials, there are plenty of other approaches to consider. Compile screenshots from Google reviews and weave them into a branded reel. You can also use clips of happy customers dining in your venue, subtly acknowledging the power of positive experiences in a visually engaging way.
How-To Guides and Tutorials
Educational content has seen a significant surge in engagement. Restaurants featuring top chefs sharing cooking tips or recipes, pubs hosting mixologists guiding viewers on making the perfect cocktail, or a barista showing the art of creating latte art in a coffee bar, can entertain and inform the audience simultaneously. These tutorials not only showcase the expertise of your establishment but also create an avenue for interaction with customers beyond the confines of physical visits.
Highlighting Special Events
Many hospitality establishments host events like wine-tasting nights, live music performances, culinary courses, beer pong contests, or happy hour specials. Filming these events can create exciting content and give potential customers a glimpse of what fun awaits them at your establishment. Well-edited footage from a successful event can be instrumental in showcasing your establishment's capability to provide unique entertainment, making it stand out against its competitors.
Enhanced Focus on Interior Design
The interior design of an establishment plays a significant role in creating a specific ambience. Using videos to flaunt your exquisite interior design, unique furniture, exclusive art pieces, and more can intrigue potential customers. Showcasing this can be particularly important for pubs, bars, or themed restaurants where the customer experience is highly intertwined with the surroundings.
Service Highlights
In the hospitality industry, it's often the little things that create the most significant impact. Features like a complimentary drink upon arrival, a surprise dessert for a special occasion, or trained staff who go the extra mile to ensure customer satisfaction, can be effectively highlighted using video. This can showcase service excellence and make an establishment more endearing to future customers.
Integrating video into hospitality businesses to enhance customer engagement is no longer just an option; it's an essential part of a marketing strategy. It breaks the limitations of the written word and brings a level of dynamism and interactivity that is unparalleled. As technology evolves and the production of video content becomes more accessible, hospitality businesses need to ride this wave to gain a significant competitive advantage. Employing the power of video, establishments can narrate engaging stories, create exclusivity, form personal bonds, build the fun factor, and significantly enhance the overall customer experience.
Want to see the Kobas system in action?
Kobas enables teams across the hospitality industry to manage all areas of the business, from one connected and complete system.