SaaS
Both Kobas Cloud and EPoS are offered exclusively in the Software as a Service (SaaS) model. Our clients pay a monthly subscription in return for the ability to use our Cloud website on their internet devices, and our EPoS application on their till units. A hospitality venue pays a few hundred pounds a month to access software which has cost us millions of pounds to develop, and that offering continues to improve every month.
The SaaS model makes an awful lot of sense, allowing businesses to access innovative yet robust technology for a fraction of its creation cost. In this post I wanted to share our enthusiasm for the software services we pay to use internally at Kobas; without them Kobas simply couldn't be where it is today. We hope our clients feel the same about Kobas!
Microsoft Office 365
Microsoft's Office 365 suite takes care of our corporate email (email sent to and from @kobas.co.uk), and means every member of staff has access to the full range of Microsoft applications (e.g. Word, Excel, Powerpoint etc) on up to five devices.
Our team typically have a number of devices. For instance, I have a desktop PC in our London office, another in my home office, and a laptop for site visits and meetings, so having five device licences for each of our team is really valuable to me. It's also quite a nice perk for my colleagues: so long as their work devices are assigned licences first and foremost, they are free to also use this software on their own and their immediate family's personal devices – so long as we keep paying the monthly licence fee.
Dropbox Business
Dropbox Business gives every member of staff access to their own files, and shared files, from anywhere in the world on any device. It provides automatic version control, which has saved me on a number of occasions. It also only needs to be online sporadically to stay synchronised, which is important to my colleagues who spend a lot of time working whilst travelling.
There are other benefits less obvious to our team during day-to-day use, that are valuable to me in my capacity as CIO. So long as our team always save all their files in their Dropbox folder, as they are strongly encouraged to do, I don't need to worry about backing up their devices. Dropbox inherently provides a backup service, and combined with Microsoft's Office 365 hosting all email content in the Cloud, it means that every device simply holds a convenient copy of information, rather than being the sole source. Naturally all devices have disks encrypted, just in case any of that information is sensitive.
Slack
Slack is the information backbone of our internal communication, and keeps our team in harmony no matter where in the world they might be. I'm confident our team wouldn't be anywhere near as cohesive a unit without Slack, and I think it's fair to say that thanks to Slack some of our team, who have barely met one another in person, have become good friends.
Just look at at the team reaction when I announced we were upgrading from the free to the paid plan!
Pivotal Tracker
Our production teams use Pivotal Tracker to manage all engineering and QA work. Every Kobas feature you've ever used likely has dozens of Pivotal cards which explain how it was initially imagined and how it has changed, along with every niggle encountered along the way.

Pingdom
Pingdom is a service which monitors all of our services at an infrastructure level, and raises alarms in the form of emails and smart phone push alerts in the event that anything looks out of place. Pingdom allows me to get to sleep at night knowing all our systems are running smoothly – though it has occasionally woken me up with bad news too. It's a vital tool in my operational kit.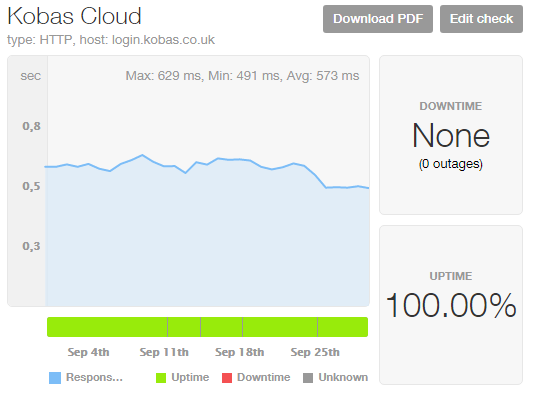 Sentry
Sentry is a service that constantly monitors all of our services at a software level, and raises email alarms in the event of our users experiencing problems with our code. It combines with Pingdom to give us a full view of our service, and its control panel allows us to group issues and target the most common and painful troubles first.
Essential, or just nice to have?
Return on investment is difficult to measure with these services. Some represent an intrinsic cost of business: Microsoft's management of our corporate email is as much a requirement of running our business as electricity or premises. Others aren't absolutely critical, but are important for a competent business. We could do without Pingdom and Sentry in the short term, as a bar could do without stock control and usage analysis – but they are all an essential part of running a responsible business.