Following a series of updates on our Rota Creator last month (here) that allows you to perform tasks using hotkeys on your keyboard, we have added new changes to make things much easier and more efficient.
Department Filters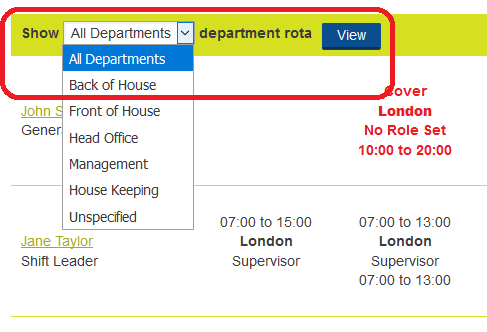 As the screenshot above shows, we have added the capacity to 'filter' the rotas and hours worked pages by department. You will find a new drop down at the bottom of the 'Hours Worked' page to help you filter your rota.
Custom Departments
Those of you with a keen eye may have noticed that addition of a 'House Keeping' department in the above screen shot. The good news is that you're now able to add, or remove, departments from the rota so it splits your labour in a way that is convenient to your business. Please get in touch with your account manager to get your departments setup, but once they're done, you're able to using them going forwards however you wish.
And to make things a little better…
Additionally, there is a small change that means clicking 'Hours Worked' will now take you directly to the venue you were viewing on the rota. We'll also remember that venue as you move forward and backwards between weeks, as well as approving the rota.
All in all, this update is sure to make things much faster, much more accurate to your business.

---
That's all for now. If you have any questions please get in touch with our support team. Follow us on Twitter for more daily updates.