September has been an incredibly busy month for us here at KOBAS. We've taken on some lovely new customers, we've released two significant upgrades to our EPoS, and yet we've still managed to evolve Kobas with some saucy new features.
Access Control
KOBAS Cloud is built on Access Control. To ensure people's workflow is streamlined, it's helpful to hide features that your team members don't need. This keeps the application simple for them to use, and of course means they can't perform functions outside of their remit.
Now you can set Kobas EPoS privileges for your team directly from Kobas Cloud. Maybe you've got some staff who just need to clock in and out from the tills, others who need to be able to take orders and payment but not give refunds, senior staff who can offer discounts and complementary items, and of course managers who need to be able to print Z reports and manage the whole system. Whatever your needs, you can now quickly and easily configure users in Kobas Cloud. Then simply download your settings to your venue server, and you've got access control set up exactly as you need it.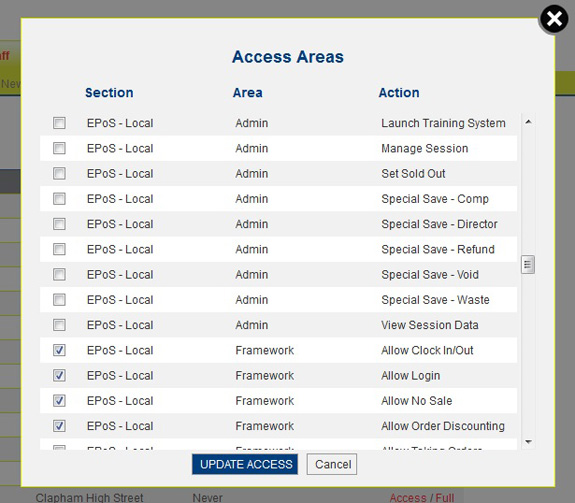 New Reports
KOBAS is all about having a good view of your business, so we know you need solid, detailed reports. This month we've unveiled a Labour Cost Report, Labour Per Person Report and a Staff Turnover Report. Together these allow you to get a great overview of which venues are under or overstaffed on which nights, and how you're performing with regards to talent acquisition and retention.
EPoS Discount Support
We've strengthened your customer loyalty and promotions offering if you use our EPoS system. Your discounts are now split into two sections: vouchers, which require your customers to have a valid voucher in their possession to unlock a discount, and promotions, which simply require the right items to be ordered at the right time. We support fixed price discounts (e.g. £10 off), percentage discounts (e.g. 10% off), specific x for y (e.g. 2 for the price of 1 on identical cocktails – great for Happy Hour), any x for y (e.g. any 2 lunches for the price of 1), specific n for fixed (e.g. 4 Jägerbombs for £10) and any n for fixed (e.g. any 4 bottles of beer for £10).
Naturally we track all this right back to the customer and venue, and your ingredient usage, so you can measure your loyalty ROI in incredible detail.
Much much more!
Alongside these major feature releases we have naturally applied a plethora of tweaks behind the scenes to keep Kobas at the forefront of hospitality management. It's now possible to charge cover shifts to different venues, we've added more explanatory text to technical reports, we've released a new mobile friendly front-end to your event ticket selling system and we've improved the session expiry timer.