Last year, we introduced our Loyalty Point Booster to help drive trade in your venues and today, we're pleased to announce a new addition to the Kobas Loyalty Platform: Discount Codes.
Discount Codes are redeemable computer-generated codes that link to existing Kobas EPoS discounts. With two types of discount codes available, single-use and multi-use, this new feature helps incentivise customers to visit your venue, with the key draw being that customers do not need to have an active account on the Kobas loyalty scheme in order to start receiving rewards. Each type has its individual benefits designed to maximise the options available for your customer base. Just like our regular loyalty campaigns, you define the rules: where, when and what the discount is.
How it Works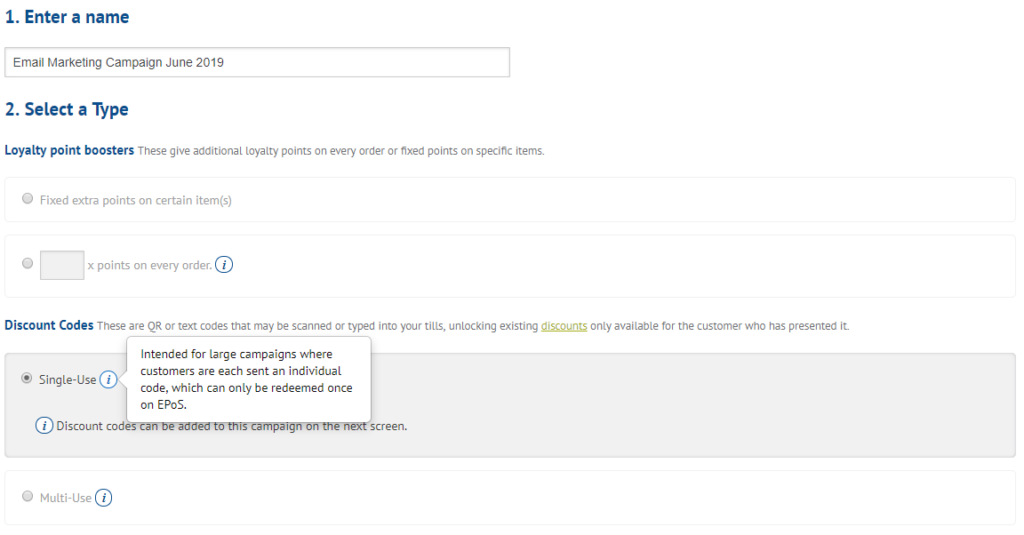 To create a new campaign, simply access Campaigns in Kobas Cloud and click on New Loyalty Campaign. Similar to setting up for loyalty point boosters, enter a name for your campaign, select whether it's for single-use or multi-use, and specify the availability of the discount. Once the campaign is saved, the information is transmitted to your venues EPoS server and ready for use.
Single-Use Codes
As the name suggests, these are for single, one-time use only. Depending on the rules you define, the code can be used for one specific item or an entire order. In creating the campaign, you specify the number of discount codes you want to generate. However, it's important to note that each code will be unique and can only be used once.
For example, when you create a campaign for 20% off a bottle of wine x 100, 100 unique codes will be generated. Or, if you create a campaign that offers 20% off an entire order for 50 people – the discount will apply to all units in the transaction – 50 unique codes will be generated.
Each code can be used only once and will automatically expire after it has been applied.
Multi-use Codes
If you're looking to offer general discounts, this is the code to use. With multi-use discount codes, you set the limit to the number of times one unique code can be applied. When you reach that limit, only then will the code expire.
For example, you can create a campaign offering 25% off cocktails on Saturdays for 150 customers. The system will then generate one code that you can use 150 times.
On EPoS
Scanning a QR Discount Code will automatically apply the discount to your basket. If you're not using QR Scanners then a code can be typed in by accessing the Discounts section on your EPoS menu. If any codes are available then a new Discount Codes button will be shown allowing for manual entry.
Discounts applied via a code work in identical fashion to normal Kobas discounts.
---
That's all for now. To keep updated, follow us on Twitter.