Post Item Selection Configuration Groups, besides being a mouthful to say and usually abbreviated as PISCs, allow for cooking instructions, additions, modifications, or price changes to be applied to a base EPoS Item. These will then be appended to work dockets to the kitchen, informing the staff that changes to the usual preparation will need to be made.
Up until today, PISC options that bore no additional cost to the customer wouldn't appear on receipts; the logic being that whilst your customer's accounts department will need a VAT receipt to process expenses claims, they likely won't need to know that the steak was cooked medium-rare!
Whilst that case may well be, having spoken with some of our clients we can see that there are use cases where you may wish these to print.
Enter today, our newest feature slash tongue-twister: Zero Price PISC Printing.
What?
As the receipt above shows, with this option selected, PISC options that have a price of £0.00 will now display on receipts; simple as that!
How?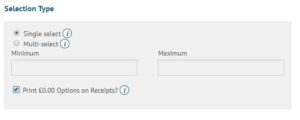 As there's still a valid case for certain PISCs not to print when they incur no cost, this new feature is configurable on a group by group basis. When creating a new, or editing an existing PISC (Kobas Cloud > EPoS > Post Item Selection Configuration), you will now have the option to Print £0.00 Options on Receipts?
Once this has been saved – and a Download Data performed on your tills, of course – you'll see these options appear on your receipts.
---
That's everything for today, but after a fairly quiet spell on the blog front, I can promise we've another one on its way imminently, so check back soon.