The time has finally come. We are pleased to announce that we have completed our new Stock system and have started releasing it to our first round of adopters, with a wider roll out happening across the first half of 2019!
After a lengthy time in development, we have created and begun the release of a new, more powerful way in which Kobas handles stock, and we're very excited.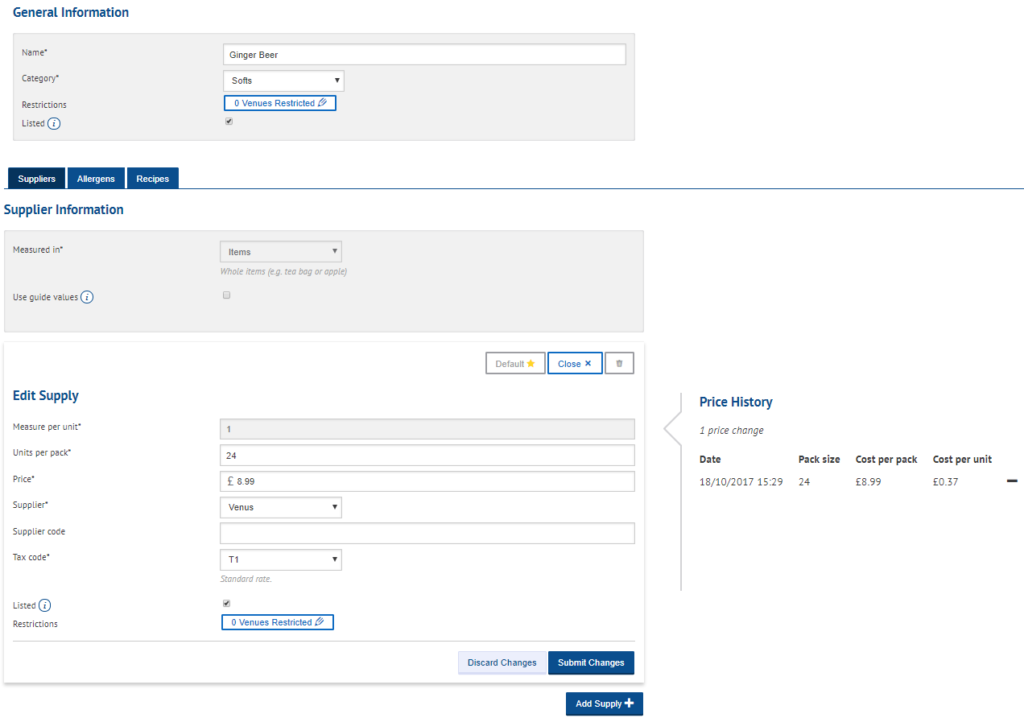 As mentioned in the 2018 Winter Report, not only does the new Stock system allow for more intuitive use (thanks to the lovely visual updates), it also offers greater flexibility and efficiency when it comes to dealing with multiple suppliers for single ingredients, multiple ingredient pack sizes, differing prices, and the order (and associated price) in which ingredients are received and used (a concept known as FIFO – First In, First Out).
Multiple Suppliers
What does it mean to have multiple suppliers for a single ingredient? Well, where previously there would be a separate entry in Kobas for each ingredient from each supplier, including differences in pack sizes, unit measurements and prices, now you can have all of the same ingredients under one heading, regardless of the differences. This means that recipes can use ingredients from separate sources.
First In, First Out (FIFO)
The changes in our updated system mean that Kobas now accounts for each instance of an ingredient as it is recorded as having been received, whether by delivery or transfer, and its price at the time of receipt. Then, when it comes to registering use of that ingredient, Kobas will calculate gross profit and the resulting holding stock based on what has actually been sold, ensuring greater accuracy.
Getting it Set Up
As migrating established accounts is quite a process; one which requires dedicated care (especially for larger and older accounts), the new Stock system will be rolled out gradually to existing clients during the first half of 2019. It is, however, the default option for new clients.
---
If you have any questions, please reach out to our Support Team.