Following the release of our new rota creator, we have received a lot of very helpful feedback from a number of our clients, with which we've been able to fine-tune its performance.
One piece of information that we heard from several people is that whilst the new creator is much more visually appealing and easier to review than the old, it wasn't necessarily much quicker or easier to create a rota from scratch.
Today's release changes that with an update that is sure to make things much, much faster.
As the screenshot above shows, we have added the capacity for 'drag-and-drop' shifts. Once a shift has been added to the Gantt chart, it's now possible to select the end time by simply clicking your desired end time. Please note that you don't need to hold the mouse-button down. Click once to select the start and once to select the end.
If the shift you have created starts and finishes on the hour, then that's all you need to do; the shift is already saved.
The Edit Shift sidebar will still appear on the right-hand side, but unless you need to make any changes, you can simply continue; either by clicking the Save button, or by clicking anywhere on the chart itself.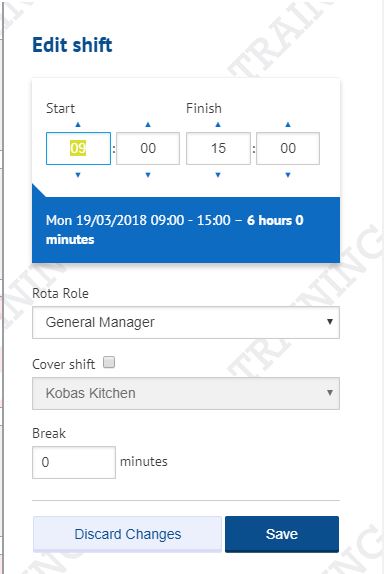 To make it easier to edit shift times, and cater for shifts that don't start or finish on the hour, any time that the Edit Shift sidebar is opened, the first time will be highlighted. This allows you to quickly tab through the time fields and alter any that you wish to change.
Again, you don't necessarily need to hit Save after you've done this. You can click anywhere on the chart.
---
We're very happy with this one and we're sure that it will take a lot of time and hassle out of the rota creation process. We can't take all the credit though, as this feature has come directly from feedback from our wonderful clients. So, thanks for that!