Kobas brings together your EPoS, stock and HR to provide a seamless operational system, yet we also integrate with a number of other third-party systems to provide email marketing, accounting, and payroll solutions. Today, we are very happy to announce our new online ordering solution, powered by Preoday.
Preoday provides an integrated web and app based platform that allows customers to order ahead from your venues, using a fully branded web-portal. Using Preoday with Kobas will allow online orders be sent directly to your EPoS, meaning that you can keep all of your financial data in one place without having to reconcile your online payments with your Kobas payments; ideal.
The good news is that things couldn't be simpler to set up. You'll need to have a Preoday account before getting started and once you've done that, Preoday will provide you with a unique API key that can be saved in Kobas. I won't go into too much detail in this post, as our friends at Sign-Up.To have an excellent breakdown here. Put simply, this key allows Kobas to 'talk' to Preoday.
In practice, this allows you to publish menus and EPoS items to Preoday, directly from Kobas, without even having to leave the page!
When your customers make an order on Preoday, that will  be sent over to our Kobas servers and we'll send the order down to your EPoS, just as if someone had placed an order in store.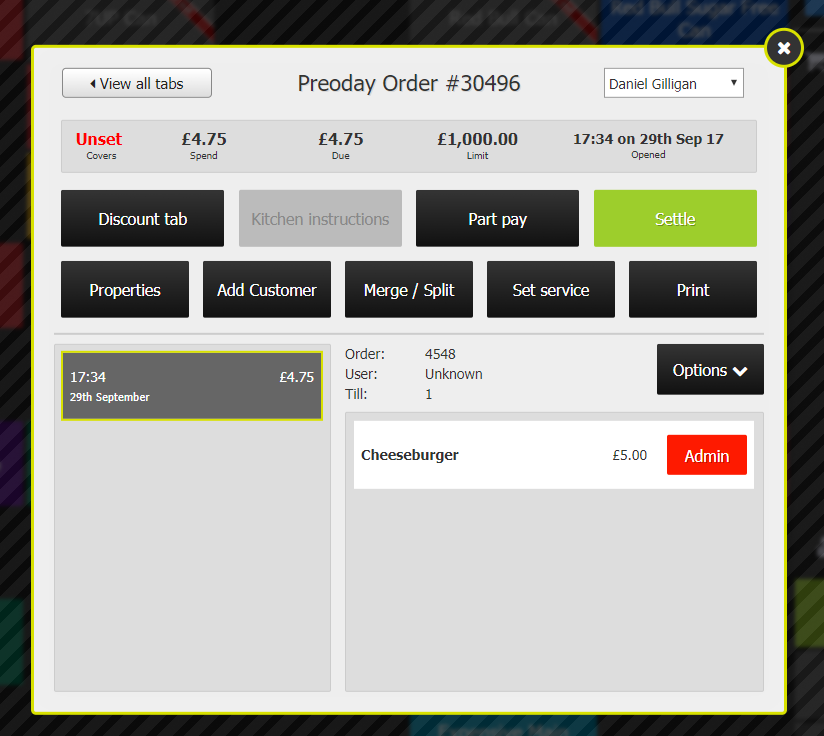 If a customer pays online, via Stripe, we'll cash that order off directly and all they'll need to do is collect their food.
Customers can also choose to pay in person, in which case we'll create a tab, ready for them when they arrive. Either way, we'll reconcile the payment, taking the hassle out of your daily cash up.
In the background, we process these orders in the exact same way as a normal order, meaning that all of your ingredient usage and theoretical cost of sales will be recorded too.
---
We know that we've been relatively quiet in recent weeks and so we're delighted to deliver a feature that we believe can provide immense value and ROI for our clients.
I'm also happy to say, that this is the first of several brilliant releases that will be happening over the coming weeks. So, keep your eyes peeled for the long awaited update to our Rotas section, as well as the arrival of Multiple-Select Post Item Selection Configuration; not the catchiest name, we know, but we prefer to let our software speak for us instead.