July was hot, hot, hot, but there haven't been any siestas here at Kobas HQ! As well as getting our cutting edge mobile EPoS system out in the wild, we've also been hard at work on Kobas Cloud. Today we're proud to announce the launch of our latest update which includes great news about Daily Tasks, Reports and EPoS Menus.
Labour Reports
Controlling labour costs is a constant challenge. Our new Labour Time Comparison Report shows you instant or historical comparisons between your planned, reported and filed labour activity.
Use our powerful rota creation and templating tools to quickly and easily plan your labour in your venues. Ask your staff to clock in, out and register their breaks on our EPoS or back-of-house stations. Then compare both of these figures with the times confirmed by your venue managers.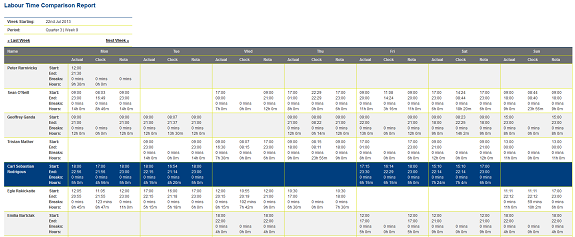 Put yourself in a position to reward the efficient and tackle the inefficient. Control your labour costs quickly and easily with KOBAS.
Daily and Shift Tasks
Our Daily Tasks system allows you to ensure that all your venues perform the same checks and asset logging before and after every shift. Maintain a handover diary, detail your safe logs, be certain that health and safety checks are always performed on time – whatever you need to control, Kobas Daily Tasks allow you to be certain your teams are on top of things.
This release adds the ability to make Daily Tasks less frequent. Perhaps you'd like to note safe logs weekly, or note your annual electrical testing obligations. No problem! Set up your tasks and relax knowing you'll have these reports available to you from any place at any time. That's the huge benefit a cloud-based hospitality management system like Kobas brings.
This release also introduced the concept of in-shift tasks. Perhaps you want to log events such as toilet checks or condition refreshes. These tasks can be repeated unlimited times during a day so you can ensure that your processes are running smoothly all the time.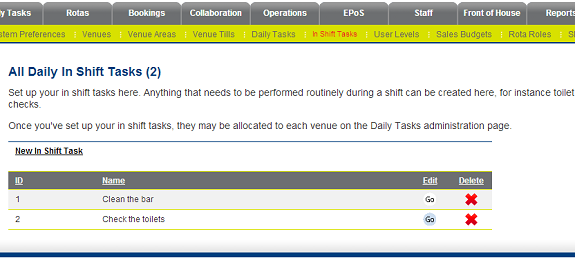 Other items
This release actually contains over 120 items. The bulk of them are summarised above. If you've ever read the details of an app update on your smartphone you'll be used to seeing "various bug fixes and stability improvements", and we've had plenty of those. We've also paved the way for some exciting new EPoS features we hope to announce later this month. Enjoy!