Kobas Virtual EPoS is a new product for hospitality operators running "cloud", "ghost" or "dark" kitchens that only serve delivery customers. With initiatives such as Deliveroo Editions becoming increasingly popular, the challenge of running a delivery-only kitchen in harmony with the rest of the business is rising up the agenda.
Any delivery kitchen still needs many of the services Kobas provides: rotas, time & attendance tracking, daily tasks, stock checks, deliveries, transfers and theoretical vs actual stock analysis. Kobas Cloud provides much of this of itself, but time & attendance tracking, and theoretical stock control require Kobas EPoS to be in place, adding the unwelcome cost of physical hardware to the mix in an environment where margins are tight.
Kobas EPoS has traditionally required this hardware due to the critical nature of the service it provides. Our EPoS doesn't need an internet connection for routine trade, and when coupled with an uninterruptible power supply (UPS), is a robust and dependable solution.
A delivery-only kitchen doesn't need this resilience, so Kobas Virtual EPoS allows a simple, internet-connected device, such as an iPad or laptop, to launch a Kobas EPoS instance that works over the internet.
Users log in to Virtual EPoS just as they would Kobas Cloud, and from there they are permitted access to any virtual venues to which they are assigned.
You only need choose your venue, or if you're only assigned to one virtual venue, the EPoS will load straight away. From that point on, it's business as usual, including time & attendance tracking.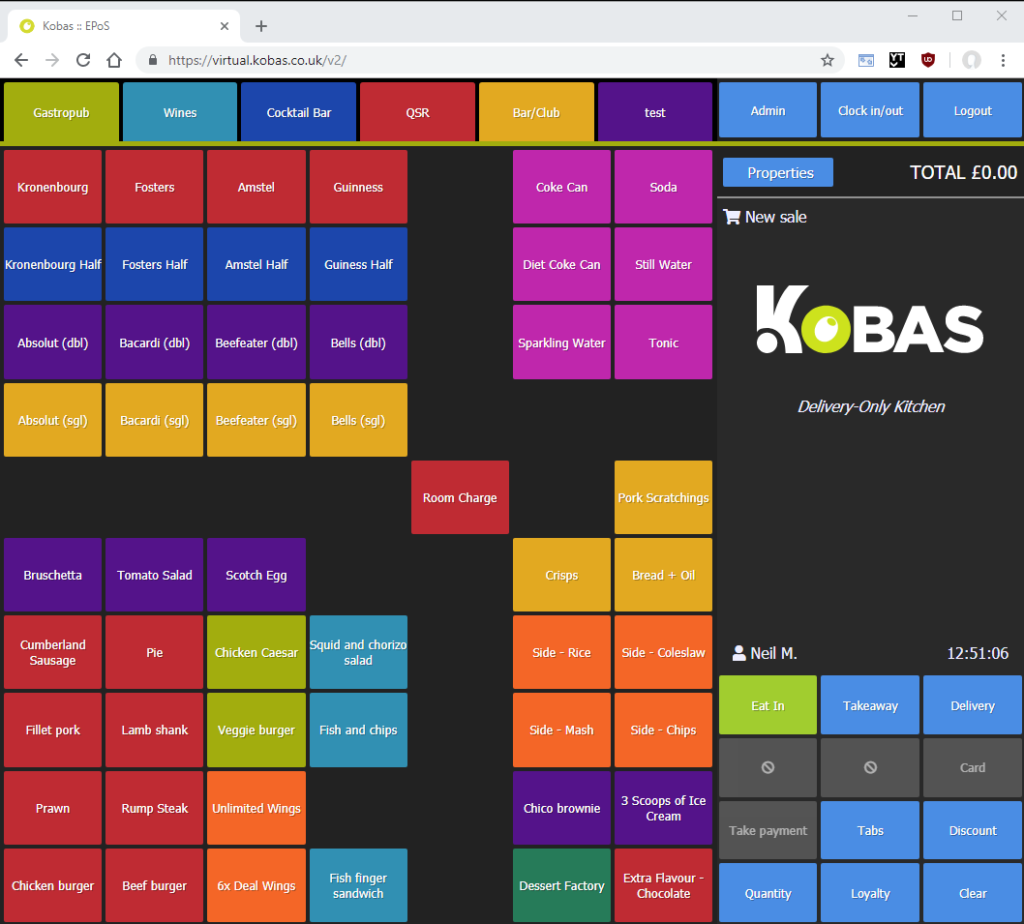 Virtual EPoS works the same as a physical installation, but cannot interact with any hardware such as cash drawers, PDQs or printers. Your team can clock in/out and take breaks as usual. Sales can be registered and paid off with a payment type to match the delivery stream (e.g. Deliveroo or Uber Eats).
To get going with Kobas Virtual EPoS, you'll need to log in to Kobas Cloud and create a venue as usual, but without registering any tills or PDQs. Then, contact our support team, and ask that we migrate it to a virtual venue.