Following the release of our new rota creator, we received some valuable feedback from clients on how we could make it even better. As a result, we've just released a feature which will make creating a rota even more efficient. There is now the option to choose a default rota role for all staff members.
Having a default rota role will prompt an automatic application of this role within the new rota creator when adding a new shift for a staff member. Now, if you have staff members who work the same role most of the time, but can fill in with other roles, you can set this as their default role. This will save you clicks when adding shifts to a rota, thus saving you even more time. Keep in mind, rota roles can still be chosen within the edit shift section of the rota creator.
Where To Find This
When adding a new staff member, the default role will be set automatically to the first role that is assigned under their Skills Matrix. For staff members who have existing roles, the default will be the most recently added rota role.
To set this, simply navigate to the staff member's page, and under "Skills Matrix" you will see the option "Default". Select the button next to the role you wish to set as the default, and the rest will take care of itself.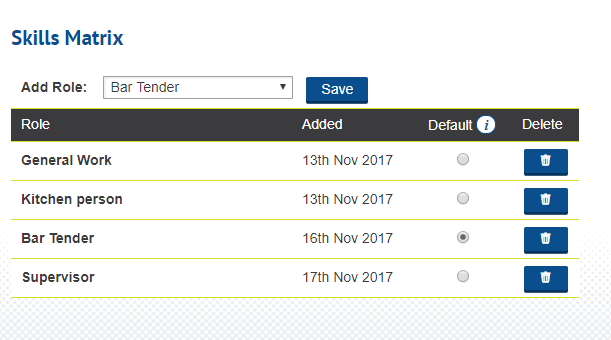 As always, we are continuously releasing small features such as this to make your lives easier, so be sure to check back soon to see what else we've been brewing!