5 New Report Categories
Our August Kobas Cloud update is now live, and the big news is that we've re-categorised the Kobas Reports section into the following areas:
Customer Analysis
Labour Analysis
Operations Analysis
Overall Analysis
Revenue Analysis
This makes it easier to find relevant reports by focusing your view on your business area of interest, either by honing straight in from the navigation, or from the filter drop down on the main reports page.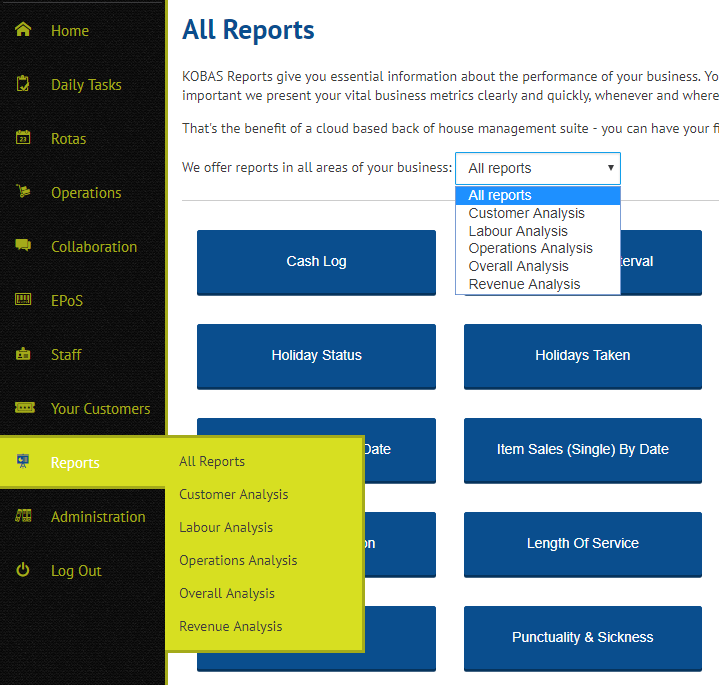 15 New Report Permissions
We've gone further to introduce 15 new permissions to allow a much more granular control of a user's report remit than before. Previously Kobas users either could or could not access the reports section as a whole; now we have the following controls: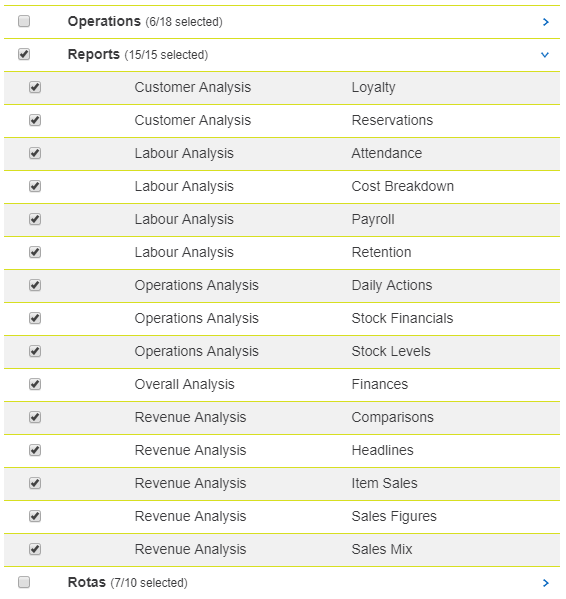 Using these controls will not only restrict a user's access to any sensitive data, it will also clean up their view of report options, optimising their workflow.
Any users who previously had access to the reports section will automatically have been granted access to all 16 new areas, but these restriction controls are available for immediate use.
Further Restrictions
These report permissions are the first step of access control to sensitive data.
Without a particular permission a user will not be able to access that group of reports. Furthermore, individual reports may also require other permissions to unlock full functionality. For instance, in order to see the Daily Sales By Order report, a user not only needs the Revenue Analysis -> Sales Figures permission, but will also need permission to view the Cash Log for the venue they are requesting. A user with permission to view all Cash Logs would, in tandem with the Sales Figures permission, be able to view the Daily Sales By Order report for any venue, whereas a user with permission to only see their Home Venue's Cash Log, may only view the order sales for their home venue.